Entry Requirements
Minimum of 32 UCAS points from relevant fields
Duration
Full time:
3 years
---
Key Features & Benefits
Validated by UK Top 15 Lancaster University
Study in our dedicated University Centre
Benefit from smaller class sizes
---
The BA (Hons) Business with Management with Foundation Entry route does not focus on one narrow area of a business, but instead allows you to study a wider range of business practices, including marketing, finance, human resources and operations.
Overview
The BA (Hons) Business with Management with Foundation Entry route does not focus on one narrow area of a business, but instead allows you to study a wider range of business practices, including marketing, finance, human resources and operations.
The Business with Management degree is designed for students who want to work in the fast-paced global world of private and public organisations, coordinating teams and using resources efficiently, or perhaps establishing and running their own business.
You will develop powers of analysis, problem solving skills, research skills, critical thinking, team work and interpersonal skills.
The degree is a modular programme which enables you to study a wide range of business-related topics. Our supportive, qualified and experienced staff, together with accessible and interactive lecture/seminar formats, all help to ensure you will have a rewarding academic experience.
What will I study?
When you study at Level 3 of this programme you will study 3 modules in total. These have all been designed to help you develop the skills you'll need for higher level study of business. You will also develop an understanding of the requirements of degree level study and it will give you an opportunity to practice studying and taking part in University level assessments. In short, you will gain a firm grounding for the subject you want study at degree level before starting your Honours degree.
At Level 4 you will study a range of introductory modules designed to familiarise you with business topics.
As part of your course, you will develop employability skills across all modules. In particular in the 'Career Planning and Personal Development' module you will begin to consider your own career and personal development. This module complements the broader skills that you will gain in understanding how businesses create success, how to manage business operations, how to make informed decisions and how to lead change in organisations.
At Level 5, you develop these further to encompass all the skills necessary for a successful career in any type of organisation.
At Level 6, you will have a choice of optional modules to choose from to enable you to focus on a topic which you find most interesting.
All students take a total of 120 credits per level.
Level 3 Modules (all modules are mandatory) include:
Business and Finance
Introduction to Marketing & Digital Media
Developing Professional Practice
Level 4 Modules (all modules are mandatory) include:
Business Economics & Environment
Principles of Human Resource Management
Understanding Organisations
Introduction to Finance
Career Planning and Personal Development
Business Law
Level 5 Modules (all modules are mandatory) include:
Operational Decision making
Understanding and Managing People
Research Methods
International Dimensions of Business
Business Marketing and Promotions
Business Sustainability
Level 6 Modules (2 optional modules as indicated by *) include:
Strategic Management
Enterprise & Innovation
Leadership and Change Management
Financial Management
Research Development and Planning
Development and Evaluation (case study) Project*
Business Project*
Entry Requirements
Applicants to the foundation year with A-level (or other level 3 qualifications) gained within 5 years of entry will required to have either a minimum 32 UCAS points from subjects related to their intended target award or a minimum of 48 UCAS points overall. Students meeting these criteria may be admitted without interview.
Applications from those without formal qualifications: 
We welcome applications from mature students without formal qualifications for these courses or from mature students whose Level 3 qualifications were gained more than 5 years ago. If this applies to you, you will be interviewed before your course and offered a place on the basis of your previously gained skills and experience. The interview will consider your prior formal qualifications, and your evidence of experience gained through employment or other verifiable source.
All applicants must show that they have a good level of spoken or written English, and if English is not your first language you'll need to demonstrate the ability to study in English. For non-native speakers of English, you must demonstrate proficiency of English equivalent to B2 of the Common European Framework, specifically IELTS 6.0 (or equivalent) with no more than 2 sub scores below IELTS 5.5 (or equivalent). 
Care Leavers or Young Carers
We want students from all backgrounds to have the opportunity to go to University. If you have spent three months or more in local authority care OR are a young carer, you will be eligible for a contextual offer. This is a grade reduction of 1-A Level grade below our standard entry requirements. For example, a standard offer of CCC, would become CCD. MMM at Level 3 Extended Diploma would become MMP. To apply we advise that you tick the box on your UCAS application which identifies you have spent time in care and to help identify you as eligible for our contextual offer.
How will I be assessed?
Assessment will be undertaken through a range of established methodologies at various stages throughout your learning experience. Various assessments are designed using live case studies, contemporary topics and guidance from industry specialists. Assessments incorporate standard practices through initial, diagnostic, formative and summative stages. Examples of assessment activity include:
Essays & reports – Academic writing is an important skill to learn for graduates.
Examinations – These may be written or online and are used to test knowledge and understanding.
Dissertations / projects - This is an opportunity for you to explore topics of interest to them and engage in academic research in Higher Education, whilst promoting independent learning.
Group & Individual presentations – This method of assessment is widely used in the business industry, these assessments give you an experience presenting to a wider audience.
Peer assessment - This builds up confidence in giving and receiving feedback from others and enables a student led approach to learning
Group assessment – This encourages collaborative working and helps build interpersonal skills.
Teaching and Learning
Learning and teaching will be delivered through a range of established methodologies including:
Interactive lectures and seminars that use techniques such as flipped learning to actively engage students with studies
Workshops where tutors are available to guide learners with the planning of assessments
Audio Visual materials provides a modern teaching experience for learners and enhances the classroom experience.
Research aids broadening knowledge of topic areas
Archive and Library searches using traditional library services or online library services
Distance and e-learning (via VLE) using online technology encourages independent learning.
Attendance and presentations at conferences providing networking and intern opportunities
Debates where students are encouraged to build on confidence levels using a critical approach to topical discussions.
What can I do next?
Our graduates are knowledgeable, confident, socially aware, imaginative and enthusiastic individuals and they are actively sought after in a wide number of business-related occupations and professions.
The skills gained on a business degree allow you to build commercial awareness and start contributing to your chosen employer quickly and effectively.
Jobs where your degree would be useful include: Human Resources officer, Logistics and Distribution Manager, Marketing Executive, Retail Manager and Sales Executive and many more.
You may also choose to progress onto a Graduate Management Scheme or postgraduate study. Many of our graduates choose to progress on to a Professional Qualification upon successful completion of the course. You can continue your study of Professional Qualifications at University Centre at Blackburn College.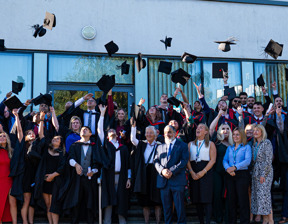 Highest overall student satisfaction in Lancashire