Key features and benefits
Study at our World Class Campus
Fantastic learning facilities
We work with over 3,000 employers to help you find a job
Rated "Good" by Ofsted in all areas - as of January 2022
What will I study?
In this workshop you will:
Learn how to improve communication before, during and after the sale
Increase customer retention rates and develop improved customer relationships.
See the impact your processes may be having on customers.
Find out how to avoid making the costly mistakes that could be turning customers away from doing business with you.
Adopt processes to ensure a consistent experience for all customers
As a result of this workshop you'll have a clear idea of where tweaks in language, processes and communication will help increase customer retention rates and decrease customer complaints.
About Anne Williamson:
With 25+ years experience in marketing, Anne's focus is always on the customer. Her last 'job' was as the marketing manager in a mail order business where she ran the marketing, design and web teams taking the business from less than a million to £4.8 million turnover (selling £1 products). 
Author of 'Are you a one night stand business?' her desire is to see companies involve their customers more.   Once you make a customer feel a part of your business they will help you grow.
Anne is no holds barred, plain speaking and great fun to work with.  She has worked across a variety of business including funeral businesses, professional services, engineers and estate agents.  She has a real love for great customer service and works with businesses who want to be the standout business in their field.   
She challenges behaviours with her 'nothing is off limits' approach in an engaging fun learning environment. She guarantees to raise your eyebrows.  There is nothing worse than spending money on training and leaving the learning in the room!
What can I do next?
Other sessions delivered by this trainer include:
Developing a marketing plan for your business
Grow your business with customer feedback
Developing outstanding customer service
How to write copy that improves marketing communication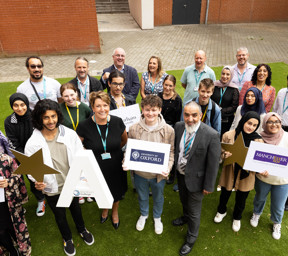 99.7% Overall BTEC Pass Rate

Blackburn College August 2021 Results