Key features and benefits
Adipiscing bibendum est ultricies integer quis auctor elit sed vulputate.
Nisl suscipit adipiscing bibendum est ultricies integer. Non enim praesent elementum facilisis
Consectetur libero id faucibus nisl tincidunt eget. Laoreet id donec ultrices tincidunt arcu
Laoreet id donec ultrices tincidunt arcu
Anyone who works in retail where food is involved needs to be aware of the latest food hygiene standards in relation to their role.
Overview
This course provides a basic understanding of food safety and hygiene as it relates to the retail sector, covering issues such as displays for sale and hot display units, along with storage and preparing food for retail.
Our popular Level 2 Food Safety and Hygiene for Retail course has been re-designed and includes all the latest legislation, information and up-to-date guidance.
This Level 2 Food Safety & Hygiene Certificate for Retail course is suitable for any food handler working in a retail environment, for example supermarkets, small and large grocery stores, butchery, bakery, fish and farm shops, market stalls and delicatessens.
This City and Guilds accredited Level 2 Food Hygiene and Safety for Retail course is designed to provide an individual or an organisation with the very latest food safety and hygiene training.
We are delighted to announce that our popular Level 2 Food Safety and Hygiene for Retail course has been re-designed. Not only does it have a design that is modern and meets accessibility standards, but it has also been restructured to create a journey that better fits your needs. We understand that learners need learning that is flexible, that they can dip in and out of as they require, and that can easily fit into their schedule, and so we have broken down our course into bite-sized chunks, which will allow you to tailor your training more easily to your needs.
The material is provided in an interactive format that is designed to be engaging and accessible. A basic knowledge of food hygiene will mean learners progress quickly, but the course is designed for anyone working in the service or hospitality sectors and should be suitable for any staff member to give them the knowledge needed to work effectively and safely.
What will I study?
Level 2 Food Safety and Hygiene for Retail Certificate

At the end of this course, you will need to complete a test that consists of 30 multiple choice questions. Learners are required to achieve a 75% pass mark, and - if necessary - may attempt the test three times at no extra cost. If learners do not achieve the 75% pass mark, further attempts may be given by contacting our support team.

Upon completing the course, learners will be able to download a digital food hygiene certificate from Virtual College. If you have bought the posted certificate option, a high quality, seal embossed, certificate will be sent out at the beginning of the next working week. This certification is universally recognised and can be used to provide evidence of food hygiene and safety training both internally and to external auditors. There is no set time for how long a certificate is valid for, but the accepted industry standard is for food hygiene certificates to be renewed every three years. However, some employers may require you to renew your certification more frequently than this.

 

You will learn

Why food hygiene and safety is important
Personal and legal responsibilities
The impact of food-borne illness
How food becomes contaminated

Who is it for?

Roles including:

Anyone working in a retail environment which can include supermarkets, small and large food shops, wholesalers and markets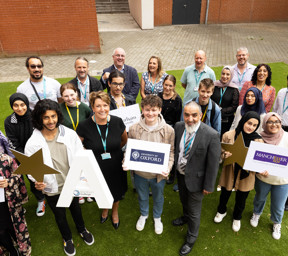 99.7% Overall BTEC Pass Rate

Blackburn College Results August 2021