Entry Requirements
There are no specific entry requirements to study an Apprenticeship at Blackburn College
Timetable
Check with tutor
---
Key features and Benefits
Study at our World Class Campus
Fantastic learning facilities
We work with over 3,000 employers to help you find a job
Rated "Good" by Ofsted in all areas - as of January 2022
---
Overview
Bricklayers lay bricks, blocks and other types of building components in mortar to construct and repair walls, foundations, partitions, arches and other structures e.g. chimney stacks. They might also refurbish brickwork and masonry on restoration projects. The range of sites and projects that bricklayers will work on include large commercial developments, new builds in housing, alterations, extensions and restorations. A bricklayer may work one-on-one or on larger jobs where their bricklaying group (gang) may work on a particular section of a building alongside other bricklaying gangs as well as other trades.
What will I study?
Health and safety: Health and safety hazards, current regulations and legislation including COSHH/risk assessments and understanding the importance of method statements. Codes of practice and safe working practices, including asbestos awareness and correct use of personal protective equipment (PPE).
Buildings
Materials
Alternative construction techniques
Radial and battered brickwork
Feature and reinforced brickwork
Fireplaces and chimneys
Customer service
Entry Requirements
There are no specific entry requirements to study an Apprenticeship at Blackburn College. You will have an initial assessment when you come in for an interview, and this will show the level of English and Maths qualifications, known as functional skills, that you will study alongside your apprenticeship.
How will I be assessed?
You will undertake an End Point Assessment.
On completion you can register with the Federation of Master Builders.
What can I do next?
Other professional bricklaying or construction courses.
Discover other courses in Construction
Career Options
Bricklayer
Bricklayers build and repair walls, chimney stacks, tunnel linings and decorative stonework. They might also refurbish brickwork and masonry on restoration projects. If you enjoy doing practical things and you are interested in construction, this could be the perfect job for you.
To become a bricklayer, you will need to be able to read plans. You'll also need to be able to work in a well organised way.
You may not need formal qualifications to become a bricklayer, but employers usually want people who have some on-site experience. Some building companies may want you to have GCSEs in subjects like maths and English.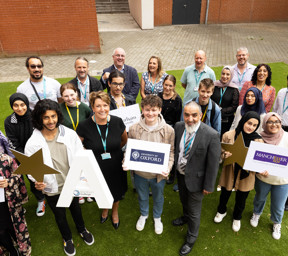 99.7 Overall BTEC Pass Rate

Blackburn College August 2021 Results