Key features and benefits
Study at our World Class Campus
Fantastic learning facilities
We work with over 3,000 employers to help you find a job
Rated "Good" by Ofsted in all areas - as of January 2022
Entry Requirements
In order to attend this course, CISRS require delegates to have awareness and experience of scaffolding structures, which would have come from time spent in their individual industry sector e.g. construction, engineering, manufacturing, petrochemical, oil and gas etc.
Those meeting one of the following criteria will be accepted onto the course:
A delegate holds a current CISRS Scaffolder card
A delegate holds a current CISRS Advanced Scaffolder card
A delegate holds a current CISRS Scaffolding Supervisor card
A delegate holds a current or expired CISRS Basic Inspection card and is attending the course in order to renew their card
Please note individuals holding CISRS Labourer, Trainee and BASE cards will not be deemed eligible to attend a CISRS Basic SITS course, unless they satisfy the criteria detailed below.
Individuals not holding an eligible CISRS card detailed above wishing to attend the course will be required to submit a CV with contactable references and or/certificates, together with a letter from an employer confirming their awareness and experience of scaffolding structures gained via their role within the industry and confirmation that the delegate has had a minimum of 2 years of experience in this role.
Examples of acceptable roles are
Scaffold Designer
Contracts Manager
Engineer
Site Agent/Manager
H&S Manager
HSE Inspector
Scaffolding Inspector who has previously attended a non-CISRS Scaffold Inspection/Awareness course at least 2 years before the start of the CISRS Basic SITS course.
Delegates who do not have any previous knowledge or experience of scaffolding will not be eligible to attend this course. Individuals in this position would be advised to consider attending a general scaffold appreciation/awareness course and then obtain the required experience and/or qualifications as outlined above prior to committing to inspection training.
Delegates must have successfully completed a CITB Health and Safety and Environment Test within 2 years prior to attending the Basic CISRS SITS course or alternatively hold an accepted Health and Safety exemption such as NEBOSH Construction Certificate, SMSTS, SSSTS, CCNSG. Again, these must have been passed in the last 2 years. We would require proof of eligibility at the time of booking.
What will I study?
The course covers the below:
Introduction to Scaffolding & Scaffolding Terminology
The Work at Height Regulations 2005
British, European and Industry Standards (NASC)
TG20 Operational and Design Guide
Overview of SG4 Fall Arrest Equipment
Tube, fittings & boards
Safe ladder access 
Scaffolders training and working methods
Bracing and tying scaffolds
Independent Scaffolds
Mobile, static and loading towers
Birdcage scaffolds
Beams and bridging beams
Fan boards and public protection
Various types of system scaffolding
Edge Protection
How to carry out a scaffolding inspection
Scaffold tagging systems
Scaffold inspection exercise
Knowledge test
To give the attendees such knowledge inspect basic scaffolding structures in accordance with the Work at Height Regulations. The course can be tailored to suit clients own arrangements.
What can I do next?
On successful completion of the course, we will apply, on your behalf, for the CISRS Scaffold Inspection Card.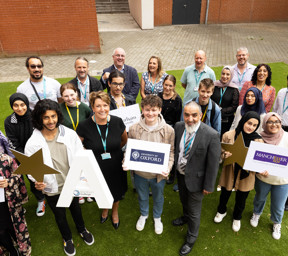 99.7% Overall BTEC Pass Rate