Entry Requirements
Minimum of 32 UCAS points from relevant fields
Duration
Full time:
4 years
---
Key Features & Benefits
Validated by UK Top 15 Lancaster University
Study in our dedicated University Centre
Benefit from smaller class sizes
---
Our BA (Hons) Fine Art with Foundation Entry degree course is designed for students who want to study Fine Art, but don't have the necessary formal qualifications or portfolio to start the Honours degree programme just yet. The BA (Hons) Fine Art programme at the University Centre Blackburn College provides a platform for both traditional and contemporary art practice.
Overview
Our BA (Hons) Fine Art with Foundation Entry degree course is designed for students who want to study Fine Art, but don't have the necessary formal qualifications or portfolio to start the Honours degree programme just yet.
The BA (Hons) Fine Art programme at the University Centre Blackburn College provides a platform for both traditional and contemporary art practice.
The Fine Art degree facilitates opportunities for our students to make art works in any media, engage in practice led research and develop their practice as critically engaged participants in the local, national and indeed global community.
Engagement takes place in large, bright, purpose built Victorian drawing studios, a modern University Centre, in the town itself and in cities across the country.
Equal value is placed by staff and students on both analogue and digital process and outcomes, with workshops that are an exciting mix of traditional print making, sculpture, photography and painting that allow the best traditional processes to be explored alongside digital image making, moving image production, audio recording and television studio access that allows students to develop an individual practice in any media appropriate to their work.
We are looking for students who demonstrate ambition, curiosity and bravery in their work, and who understand the benefits of working in small groups with access to large studios supported by a dedicated and internationally recognised staff team of practicing and visiting artists who will support you in your journey towards becoming professional artists on an international stage.
What will I study?
When you study at Level 3 of this programme you will study 3 modules in total. The two practical modules introduce you to a range of creative arts disciplines, approaches and techniques. These modules have been designed to help you develop the skills you'll need for higher level study of Fine Art. You will also develop an understanding of the requirements of degree level study and it will give you an opportunity to practice studying and taking part in University level assessments. In short, you will firm grounding for the subject you want study at degree level before starting your Honours degree.
The main emphasis at Level 4 of the programme is to introduce you to a range of technical and conceptual skills that will help you develop your critical judgment and establish the focus for your future work. 
You will explore the possibilities of Drawing, 2D media and 3D and 4D media (including moving image, audio, photography and performance). In these early stages of the programme you will be given workshops in all areas to support experimentation, allowing you to gain confidence in working across a range of media.
Later in the year you will focus those aspects of fine art that are most relevant to you by undertaking an independent research project. This module aims to broaden your understanding of the contexts of your practice to prepare you for year two, when you will focus your chosen discipline.
At Level 5 you will begin to refine your practice after reflecting on strengths and weaknesses from year one. During year two you will also be encouraged to develop and refine themes that underpin your work in preparation for dissertation; the extended essay you will undertake in year three.
At Level 6, will build on the work you started in your second year and bring it to resolution, with the final degree show as an opportunity to exhibit your achievements.
The course is delivered through lectures, workshops, demonstrations, discussions, e-learning, live briefs, study trips, artist talks, gallery visits and exhibitions. Most importantly however, critical engagement and dialogue is formed through critiques and participation with the community of practice that is staff, students and visiting artists across the art schools at Blackburn College.
All students take a total of 120 credits per level.
Level 3 Modules (all modules are mandatory) include:
Preparation for Higher Education
Studio Practice 1 (multidisciplinary)
Studio Practice 2 (Personal Project)
Level 4 Modules (all modules are mandatory) include:
Contextual Studies
Studio A: Experimental Practice
Studio B: Refining Practice
Studio C: Proposing Practice
Level 5 Modules (all modules are mandatory) include:
Critical Studies
Studio Practice: Not Knowing
Studio Practice: Knowing
Beyond the Studio
Level 6 Modules (all modules are mandatory) include:
Dissertation
Studio: Landscape of Practice
After Art School
Entry Requirements
Applicants to the Foundation Year should have a minimum of 32 UCAS points that are from relevant fields or a minimum of 48 UCAS points overall gained within 5 years of entry. 
Applicants should have an interest in the practice of fine art or an interest in some aspect of the creative arts. You will need to attend an interview as part of meeting the standard entry criteria for the programme. This interview will perform two purposes:
To allow the admission tutor(s) to assess your prior learning through portfolio review at interview.
To allow for a supportive discussion surrounding issues such as fees, course structure, support, career ambitions, student and institutional responsibilities.
Students who have not gained formal qualifications or have done so over five years ago will be invited to apply, and an interview will be used to determine eligibility to study based on relevant life and work experience.
Applicants who do not meet the standard entry criteria but have relevant work/life experience will be considered on an individual basis and will be invited to interview.
If English is not your first language you will need to demonstrate the ability to study in English. For non-native speakers of English, you must demonstrate proficiency of English equivalent to B2 of the Common European Framework, specifically IELTS 6.0 (or equivalent) with no more than 2 sub scores below IELTS 5.5 (or equivalent).
Student Equipment and Financial Investment Required
Applicants should demonstrate an awareness of the range of media and materials available for developing a contemporary fine art practice. Introductory materials are provided but students are expected to finance their practice as they progress on the course, submitting works suitable for assessment at Level -5 and (at Level-6) a public exhibition.
We advise that any equipment or materials queries be directed at the programme delivery team.
There may be trips to external locations for workshops, conference or another external event that the student will be required to pay for.
Care Leavers or Young Carers
We want students from all backgrounds to have the opportunity to go to University. If you have spent three months or more in local authority care OR are a young carer, you will be eligible for a contextual offer. This is a grade reduction of 1-A Level grade below our standard entry requirements. For example, a standard offer of CCC, would become CCD. MMM at Level 3 Extended Diploma would become MMP. To apply we advise that you tick the box on your UCAS application which identifies you have spent time in care and to help identify you as eligible for our contextual offer.
How will I be assessed?
Assessment will be undertaken through a range of established methodologies at various stages throughout the course. Examples of assessment activity includes:
Illustrated essays
Proposals for written work and practical work for exhibitions
Group discussions and themed seminars
Testing skills through examinations
Personal portfolios of personal and professional practice
Primary research and dissertation
Research findings and reports
Group exhibitions and presentations
Live and self-initiated projects
Peer critiques and assessment
Group critiques and assessment
Teaching and Learning
Learning and teaching will be delivered through a range of established methodologies including:
Interactive lectures
Specialist seminars
Practical skill based and creative workshops
Audio visual materials
Live research projects
Local and regional archive and library searches
Distance based asynchronous learning
Local, regional and international visits
Attendance at exhibitions and conferences
Presentations at conferences
Exhibiting opportunities
Research visits
Debates and discussion
Collaborative opportunities with staff and external agencies
Peer critiques
The learning environment and facilities could include lecture theatres, classrooms, technology suites, laboratories and workshops, library and skills labs, art and photography studios, small group and quiet zones. Learning methods will vary according to the programme of study but will include lectures and group tutorials. In addition, seminars, field trips, work placements, role play or scenario activities, laboratory and workshop practical, demonstrations, guest lectures, discussions and debates all contribute to the learning experience to support the acquisition of subject specific skills and knowledge and the development of transferable and employment related skills.
You should typically expect to have around 15 contact hours per week if you are studying full time.
In addition, you will have timetabled meetings with your personal tutor.  
You will be taught by an experienced teaching team whose expertise and knowledge are closely matched to the content of the modules on the course.  The team could include senior academics, professional practitioners with industry experience, demonstrators and technical officers.  You can learn more about our staff by visiting our staff profiles.
What can I do next?
As a fine art student you will develop a range of transferable skills that will be useful in a variety of jobs: the ability to work independently, organise your own work schedules, communicate verbally and in writing, solve complex problems, evaluate situations and make decisions. Graduates from the course have, for example, gone on to management training schemes for major retail organisations, joined the civil service and, in general, gained access to other forms of employment that are not specifically related to art - such as in Marketing. Careers that are more directly related to art include: illustration, teaching, museum work and art therapy. Past students have set up their own studios in Blackburn, Bolton and elsewhere in the region.
We encourage applications for postgraduate training and study. Some of the routes that former students have progressed down include:
Freelance artist and associated employment
Events organisation and coordination
Gallery and museum employment (marketing, administration, curating, restoration and education fields)
Freelance technicians and artist assistant roles
Postgraduate study in a range of arts subjects
Access to visual industries including film, set design and theatre
Artist studio management
Community arts practice and employment with associated institutions
Fundraising for the arts (employment with national funding councils)
Art therapy courses with access to the profession
Residencies and travel grants
PGCE teacher training and postgraduate routes to FE and HE teaching
Supplementary Information
Supplementary Information
This Programme Specification is subject to change, but will give you further information about the course structure, learning outcomes and detailed information about the assessment you can expect during the course.
Work Placements
Work placements are subject to availability. You are also responsible for any costs in travelling to and from your work placements, for any accommodation costs and in some instances the cost of acquiring a satisfactory Disclosure and Barring Service (DBS) report.
Fees and Financial information
Going to University is not as expensive as you think. There are no upfront fees to pay if you take out a Tuition Fee Loan from Student Finance England. Don't forget to apply as early as possible to secure your fees before you start your course.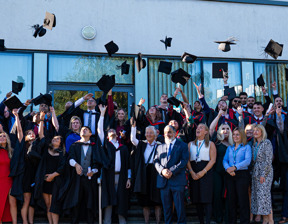 Highest overall student satisfaction in Lancashire