Key features and benefits
Study at our World Class Campus
Fantastic learning facilities
We work with over 3,000 employers to help you find a job
Rated "Good" by Ofsted in all areas - as of January 2022
Are you on Social Media and it's not working for you? Are you running out of ideas on what to put on Social Media? Are you selling on Social Media and nobody is buying? This course will help you to review your two most popular social media platforms to give you a practical working strategy to help you sell better on Social Media.
Overview
May King Tsang, our resident expert has been travelling to Social Media Conferences in the UK and the US for the past 4 years to give you the latest information in the Social Media space to help local Lancashire business, charities, and organisations. She has worked with Google, and has over 10 years' experience working with businesses in the UK, US and Australia, and has helped hundreds of local Lancashire businesses since she returned to the UK in 2016.
About May King Tsang: the tutor
May King Tsang has been using Social Media for her own business, for over 10 years, and has been a lecturer, tutor, trainer and speaker for over 20 years.
May King travels to the United States every year to attend Social Media Marketing World, the biggest Social Media conference, to learn the latest and greatest from expert speakers around the world, which she then passes onto her students and clients. She also attends conferences to learn from expert speakers in the UK, again to pass on her newly acquired knowledge to others.
May King has delivered training programs to thousands of businesses around the world from group trainings to one to one consultancy, helping Social Media Managers to produce the right content for their clients. She also produces Social Media Review and Strategy reports for business owners across the major Social Media platforms.
As a Twitter expert, May King is often asked to speak about Twitter in the UK, Europe, at face to face and also at virtual conferences. She is also asked to speak about Social Media strategy at various conferences too.
When she's not tutoring, you'll mainly find her Tweeting or Instagramming at @maykingtea, and you can also find her on LinkedIn at May King Tsang.
Please bring as many of your questions to the sessions and May King will answer all of them during this 3-hour course.
We will work live so please bring login details – and your questions.
What will I study?
Why Video?
The latest 2020 Video Stats for Branding, Marketing and Selling
How do you currently use video?
Planning Videos for Seasons, National Days and Popular Culture
Different types of Video for your Organisation o Stories (Instagram and Facebook)
Native Video versus Corporate Video
Live Video
Introductory Video Strategies o Share expert tips and advice
5-to-30 day challenges
Setting the scene – introducing the video
Advanced Video Strategies o Behind-the-scene reporting / Staff interviews / client testimonials
Repurposing Video (Instagram Stories, Feed, IGTV, Twitter and LinkedIn)
Splicing Videos to tell a story
Repurposing, Captioning and Splicing Tools o TryLately
Clips, Clipomatic, QuiCC and Kapwing
Splice, iMovie, Kinemaster, Camtasia
Summary o Q&A
Additional Resources
Further learning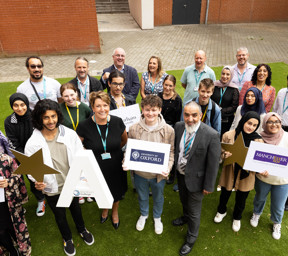 99.7% Overall BTEC Pass Rate

Blackburn College Pass Rate