Key features and benefits
Study at our World Class Campus
Fantastic learning facilities
We work with over 3,000 employers to help you find a job
Rated "Good" by Ofsted in all areas - as of January 2022
Overview
This beginner's course will take you through aspects of building your own website.
What will I study?
Week 1 - Introduction 
Discussions on changes in technology that influence business online: - Smart phones, phone apps, social media, Wi-fi availability etc
Identifying a range of online business activities: - direct selling of goods services, social, internet services etc
Researching the benefits & limitations of having a business website: - access to more customers, wider target market, fewer overhead costs, set-up costs, time to grow and promote, 24 hour customer service & increase in demand
Week 2
Case study of Croft Mill Ltd of Colne: - looking at the development of the brand and website site map construction
Types of website: – passive presence, interactive, interactive customisation, B2B, B2C, C2C, bricks and clicks, click and mortar, static and dynamic.
Week 3
Complementing offline activities: -click and collect, online edition news, blogs, online booking services
Purpose of doing business online: - market growth, profit maximisation, increasing market share, promoting a brick and mortar business, introducing a micro-site
Provision of effective communication: - Bulletins and email newsletters, forums, mass communication, distribution lists
Week 4 - The customer interface: 
Indirect contact (FAQs, pop-ups, customer account details such as previous orders)
Online customer service (keeping customers informed about transactions such as shipping or bookings, full contact details, answering emails promptly, asking for feedback and responding to complaints or queries)
One-to-one customer relationships (live chats & Facebook messenger etc)
Mass customisation/personalisation (tailoring information for each customer such as previous purchases and making suggestions based on this, personalising products as MoonPig does)
Week 5 - 
Relationship marketing: - retaining customers, rewarding loyalty
Market Presence: - 24 hour visibility and global presence
Customer analysis software: - such as UserVoice or using Facebook/Instagram business and SurveyMonkey
How to operate online: - listings on Yell.com or Google Places, tracking competitors through Google Alerts, promote via YouTube and other social media, recruit through LinkedIn, updates through RSS feed, video conferences on Skype or Facetime, writing blogs, selling through eBay or notonthehighstreet.com
Week 6
The power of social media: - free advertising, effective brand pages, discovering the best social media for your business brand
Website links: - Instagram, Facebook, twitter, Pinterest
Search Engine Optimisation (SEO): - through social media, feedback and online advertising
Week 7
Domain names: - registering and renewing and checking domain name availability (Nominet and Internic)
Set-up: - In house basic website such as 1 & 1 or Wix or outsource by paying a professional
Construction features: - hyperlinks, action buttons, hotspots, templates and forms
Accessibility:  – ensuring it can be used on a variety of platforms and to all users
Inventory management software: - Fishbowl & Easify etc
Week 8
Payment security: - Paypal, debit credit card through WorldPay
Online security: - Firewalls & anti-virus/spyware software to prevent cybercrime and back up systems to restore lost data
Regulations: - Data protection, Distance selling regulations and trading disclosures
Week 9
Distribution: - DHL, Hermes and FedEx etc
Interactive Features: - Registration and login, e-commerce facilities such as shopping basket and checkout, downloads to topics of interest, message boards and online forums and email links
Usability: - Ease of navigation, feedback forms, dynamic interactions (automated response to preference), cascading style sheets (CSS), interactivity of digital assets such as videos and photographs or information booklet and the three clicks rule
Week 10
Storyboard and sitemap: - A graphic representation of your site and how each page links and the content of the site hierarchically (use Croft Mill website to see its construction and other website storyboards on Google images)
Week 11
Sample pages: - Headers & footers, navigation bar, search bar, contact details
Using Wix Website developer: - Registering and choosing a design template, action buttons and features, learners to get to know how to navigate the software
Week 12
Using Wix Website developer: -
Adding website features systematically
Week 13
Create a PowerPoint presentation that showcases storyboards/sitemaps and website features
Learners to show each other their websites through a presentation and share ideas
Week 14
Using Wix Website developer: -
Troubleshooting & adding final touches
Publishing website
Facilitating learners that want to buy a domain name and pay for a web package so that their site goes live
Entry Requirements
Candidates must be PC/Mac competent and have a good knowledge of PC's before enrolling on this course.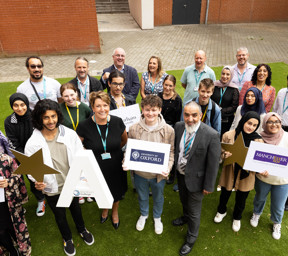 99.7% Overall BTEC Pass Rate

Blackburn College Results August 2021