Key features and benefits
Study at our World Class Campus
Fantastic learning facilities
We work with over 3,000 employers to help you find a job
Rated "Good" by Ofsted in all areas - as of January 2022
Overview
This course is aimed at delegates who are at a beginner's level but who are proficient in the use of a computer and have a basic grasp of the internet.
How will the course be delivered?
The course runs for 10 weeks (evening).
What will I study?
This course will cover the following:
Learn the basics of Web page components
Tables
lists and formatting
Cascading Style Sheets (CSS)
Search Engine Optimisation (SEO) techniques
Develop web pages using Mark-up Language (HTML)
Learn how to
Include hyperlinks, e-mail links text links and image links
Develop web pages with a consistent layout
Embed media: videos, avi & mp3 files, flash games, Google maps and Streaming media
Enhance web pages with
JavaScript & Java Applets
Create and edit digital camera images
Create and edit simple web animations
Course ends with an introduction intro Adobe Dreamweaver CS6. The version of Flash used for this level is CS6.
Entry Requirements
Candidates must be proficient in the use of and have a good working knowledge of PCs before enrolling on this course, coupled with an understanding of the Internet.
What can I do next?
Web Design Advanced Web Design Advanced - PHP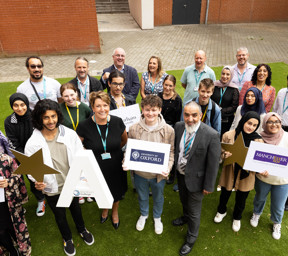 99.7% Overall BTEC Pass Rate

Blackburn College Results August 2021