Key features and benefits
Study at our World Class Campus
Fantastic learning facilities
We work with over 3,000 employers to help you find a job
Rated "Good" by Ofsted in all areas - as of January 2022
This course is for Health and Safety professionals and aspiring entrepreneurs
Overview
Who is the course for?
Health and Safety professionals and aspiring entrepreneurs
How will the course be delivered?
Proactive workshops, group and individual exercises. Group discussion. Home study and end of course assignments. What will I get at the end of the course?
An understanding of how business operates
How to be successful in business
How to identify and set business targets and maintain business growth
The importance of close customer relations
Business ethics
How to identify potential pit-fall
The legality of business and business regulations
This will enable you to set-up a business, run a client - backed project, speak with self-assurance about the subject matter, Contribute to management meetings and investments appraisals Create and monitor budgets.
Entry Requirements
This course is aimed at those who have achieved a NEBSOH certificate or any other relevant management certificate or professional qualification such as but not restricted to - HNC/D. Degree, City & Guilds and NVQs.
What will I study?
The course will cover the following:
Costing system and techniques
Investment appraisal techniques
Cash flow
Profitability
Payback periods
Overhead absorption
Amortization
Job costing
Labour costing
Profit ratios and percentages
Profit and loss
Balance sheet appraisal
VAT advantages and disadvantages Market research, sales and marketing
Business regulations, consumer protection, the sales of goods/services act and product liability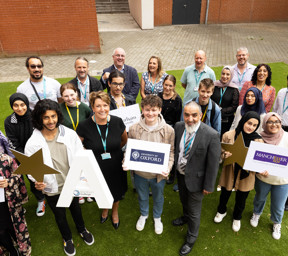 99.7% Overall BTEC Pass Rate

Blackburn College Results August 2021