Key features and benefits
Study at our World Class Campus
Fantastic learning facilities
We work with over 3,000 employers to help you find a job
Rated "Good" by Ofsted in all areas - as of January 2022
Overview
Who is the course aimed at?

The course is designed for those who want to read write and speak Arabic for travel into Arabic speaking countries or for those who want to understand the Glorious Quran!

This course is run in the evenings between 6:30pm and 8:30pm
Entry Requirements
Anyone who is passionate about language learning and preferably is familiar with the Arabic script is welcome and has a keen interest in the Arabic language.

There are no formal requirements for this course.
What will I study?
A number of topics are taught in the present tense including vocabulary and grammar structures appropriate for this level of study. Learners will communicate on a simple level in everyday scenarios.

Topics include:

Greeting and Introduction, introducing oneself, asking about country, nationality etc.
Introduction to the Alphabets, Recognising letters, their sounds and joining them into words.
Family: Talking about the family members, their work etc.
Home, living, Daily life, telling about the daily routine.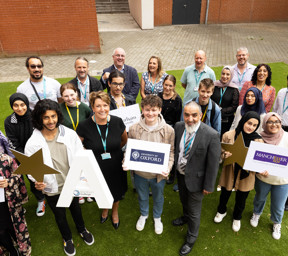 99.7% Overall BTEC Pass Rate

Blackburn College Results August 2021