Entry Requirements
An initial assessment of each candidate will need to be completed
Study Mode
Apprenticeship
---
Key features and Benefits
We work with over 3,000 employers to help you find a job
Rated "Good" by Ofsted in all areas - as of January 2022
---
Overview
This occupation is found in the construction and built environment sector, where properties across the housing, healthcare, social care, hospitality, education, commercial, leisure, retail, and private and public sectors, require maintenance to keep them in a safe working condition, and to optimise their quality or performance.
The broad purpose of the occupation is to conduct the general day-to-day maintenance required to keep a range of properties in a good state of repair.
Property maintenance operatives conduct routine maintenance tasks, and minor planned and responsive repair works, using a broad range of fundamental trade skills including carpentry, joinery, plumbing, plastering, brick and block work, external works and associated finishing trades including tiling, painting, and decorating.
What will I study?
Some of the modules you will study are:
Support the planning, preparation and delivery of property maintenance tasks in accordance with building safety regulations and legislation.
Create a safe working environment by implementing the necessary control measures, through the identification, mitigation and reporting of risks and hazards, and in line with health and safety legislation, policies and procedures.
Access and utilise appropriate work plans, job sheets, specifications, drawings/diagrams, information & data sheets, taking in account factors such as regulatory requirements and legislation, performance and quality criteria, efficiency, sustainability, and the need to reduce waste.
Entry Requirements
Must achieve entry 3 or above at initial assessment
How will I be assessed?
End Point Assessment (EPA)
Practical assessment with questions
Interview underpinned by a portfolio of evidence
Multiple-choice test
Discover other courses in Housing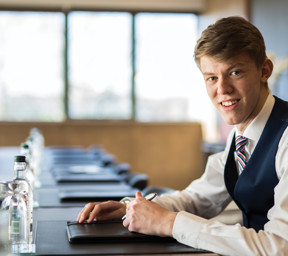 Top 10 in England for 16-18 year old Advanced Apprenticeships

Timely Success