Entry Requirements
You will need 4 GCSEs at grade 5 or above with at least a grade 4 in GCSE Maths and English Language
Duration
2 academic years
---
Key features and Benefits
New Blackburn Sixth Form
100% A-Level pass rate in 20 subjects
Increase in A-Level high grades A*, A, B
You may wish to study Sociology and Psychology alongside this A-Level
---
Overview
Would you like to know more about the one subject that unites but also divides humans all over the world? Religious belief is not necessary to study, or to enjoy this course.
A-Level Religious Studies offers the opportunity to adopt an enquiring, critical, reflexive and objective approach to a subject of which knowledge is becoming increasingly important in today's multicultural society.
It provides knowledge which will not only be useful in many careers, but also for life in general. Students are encouraged to develop their own values, opinions and beliefs on the religions studied in light of their learning.
What will I study?
In the first year, you will study three modules. These will be: Philosophy, Ethics and Islam.
In Philosophy you will be looking at arguments for the existence of God and the problem of evil in the world. Ethics will introduce you to a wide variety of approaches to defining morality i.e. through the act itself or by focusing on the end goal. The final module of Islam involves study of how Islam came about, expressions of religious identity and the Muslim belief in life after death.
During the second year, students will continue to study the same three modules and will be introduced to wider philosophical issues such as: psychological approaches to religion as a product of the human mind and the nature of near death experiences as proofs for religious belief.
Ethical issues such as: morality and religion, the acceptability of animal experimentation and polyamorous relationships. Finally, in further Islam you will study topics such as: Sharia law, including crime and punishment, the role of the family and the extent of diversity in Islamic belief.
Entry Requirements
You will need 4 GCSEs at grade 5 or above with at least a grade 4 in GCSE Maths and English Language.
How will I be assessed?
In Religious Studies assessment is entirely exam based and there is no coursework.
Paper 1 - A Study of Religion (Islam)
Paper 2- Philosophy of Religion
Paper 3- Religion and Ethics
What can I do next?
Choosing Religious Studies will present many career opportunities and may even allow you the opportunity to study abroad or visit holy sites. Students go on to work in a wide variety of careers having gained many transferable skills that can be used in many professions.
Career Options
Religious Leader
Counsellor
Secondary School Teacher
Newspaper Journalist
Police Officer
Civil Services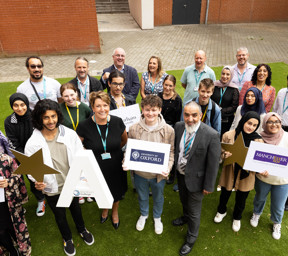 100% A-Level pass rate in 20 subjects

August 2022