Entry Requirements
Some prior knowledge of CAD is recommended and/or a Level 2 CAD qualification
Duration
30 weeks x 3 hours
Key features and benefits
Study at our modern Campus
Fantastic learning facilities
Connections with over 3,000 employers to help you find a job
Rated "Good" by Ofsted in all areas - January 2022
Overview
This course is suitable for those wanting to develop their AutoCAD skills further and gain more in-depth skills and those who want to work with AutoCAD drawings.
What will I study?
On the course you will be able to:
Use a layering system and different line type styles
Define and use a system for grouping objects to form blocks or libraries. Blocks/WBlocks
Produce isometric drawings within the 2D environment
Produce 1st, 3rd angle and sectional drawings
Define and use an adjustable co-ordinate system based on user requirements
Use complex dimensioning routines
Use different drawing spaces and complex multi viewing areas.
Use Paper Space create different scales
Produce hard copies of drawings
Make inquiries of an existing drawing and place reference points
Use XRefs
Change the properties of drawn entities
Edit blocks/symbols and hatched areas
Use a method to remove unused items
Entry Requirements
Some prior knowledge of CAD is recommended and/or a Level 2 CAD qualification.
How will I be assessed?
You will be assessed with two practical assignments and a short-written exam.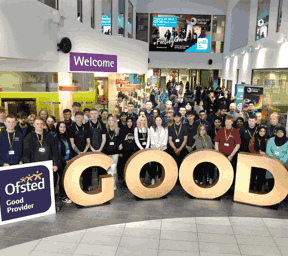 Rated "Good" by Ofsted

January 2022