College is a great way to gain real experience, skills and knowledge that will prepare you for your chosen career. You'll master your craft on our state-of-the-art campus, complete with facilities that have been designed in collaboration with our industry links.
Technical studies are ideal for:
those looking to progress to university
those who want to go directly into their chosen career
those who prefer skills that are taught through hands-on practical learning
Top Food and Drink
The Beacon Centre Café, The Pavilion and Food 4 Thought are just three of the cafés dotted around the campus serving Starbucks Coffee and freshly made food at student friendly prices.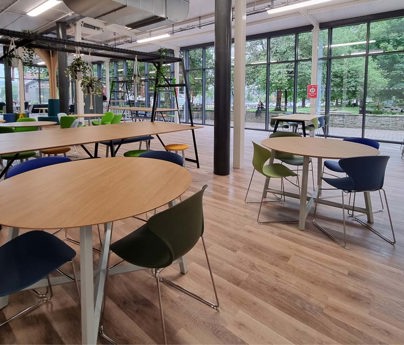 You can enjoy a new social student space to meet up and study in at Blackburn Sixth Form, but if you fancy something a bit more upmarket - enjoy a three-course meal at Scholars Restaurant, which is run by students and is TripAdvisor's No 1 restaurant in Blackburn.*
*as at June 2021
The Perfect Study Location
The Beacon Centre library is just one of many areas where you can use our free Wi-Fi and have access to one of the:
1,000+ computers
300+ laptops
50+ Chromebooks
200+ iMacs
and 34,000 print and digital books
All available on campus, as well as designated silent zones for total concentration.
Enrichment Activities
College is not just about lectures, assignments, homework and exams. It is also about making friends, trying new experiences, being active and healthy, enjoying the social life or pursuing an interest or activity. Blackburn College offers a range of enrichment activities which allow students to do just that.
At the College, we place great value on all citizenship and enrichment activities but it's not just us. They are highly valued by employers and universities as well and make you stand out from those who have similar qualifications
Find out more about sport, leisure and enrichment activities you can get involved with as a student at Blackburn College.
Enterprise
Here at Blackburn College we are keen to help you gain skills and qualifications to successfully move into employment. We offer regular employer workshops, seminars and events to help you understand what employers are looking for and how to develop your CV.
Enterprise Club
Join the Enterprise Club and meet a network of like-minded students, tutors and alumni, as well as industry mentors who can advise on setting up your own business.
Please contact 01254 292491 for more information.
NCC Young Enterprise
The NCC Young Enterprise programme is a business building scheme aimed at students aged 16-18. The programme runs throughout one academic year, enabling participants to find out what it's really like to set up and run a business. As a team, students will make all the decisions about their company, from deciding on the company name and product to creating a business plan, managing the company finances and selling to the public at trade fairs. All this takes place within the support of a volunteer Business Adviser who brings a wealth of business knowledge and expertise. Teams can track their progress using self-assessment tools and even compete against other schools in local, regional and a national final. This opportunity is offered to all A-Level students.
Advance Employability Programme
Depending on your course, you will be provided with an array of opportunities ranging from work placements to employer workshops and seminars. We encourage you to participate in these, as they will look great on your CV and develop you into a well-rounded individual that prospective employers will appreciate.
We work with big name employers such as Santander, Capita, Boots, Barclays, Marks and Spencer, Northcote, Bowker BMW, Chorley Nissan and many more to ensure you're provided with valuable opportunities that can aid you in getting a good job.
The Programme
There are four key areas of the Blackburn College Advance Employability Programme.
Career Focused
Self understanding - Completed a skills audit, identified areas for improvement and taken practical steps to improve

Self-motivated - Have thoroughly researched your career options and have a Career Plan in place to achieve your future ambitions, including continuous professional development

Have visited different job websites and are able to work out which jobs meet your skills

Communication & Digital Skills - CV created and ability to tailor to specific jobs

Communication (written) - Be able to create a covering letter and personal statement, using a person specification for jobs you are interested in

Have engaged with the Careers Programme - This has to be logged on Moodle.

Communication (verbal) - Completed Mock Interview to a high standard
Progression Ready
Commitment - Applied to a University course or your next level of study and/or a job linked to your Career Plan and intended destination

Decision-Making, Organisation and Planning - Completed a minimum of 40 hours active interest work to support career development e.g. open days, career seminars/workshops, careers guidance activities, mentoring activities, attendance/participation in college events
Engaged with Employers
Commercial Awareness & Reliability - Completed a 45-day Extended Industry Placement or over 30 hours of Work Placement as required by your course with good employer feedback

Enterprise & Communication - Completed a live employer brief with good employer feedback

Commercial Awareness - Produce a detailed overview of your placement company (its objectives, markets, competitors) including how you will use this experience in your studies

Self Awareness - Attended mock interview/coaching session/masterclass from an employer coach and acting on feedback
Excelling in Development of Skills, Knowledge, Behaviours and Attitudes
Reliability - Achieved consistently outstanding attendance and punctuality (97% minimum)

Work Ethic - Achieved target grades or above in all aspects of the course

Team Working - Take an active role and make a strong contribution within in a team

Leadership - Lead a team of peers in a group task and ensure all members of the team have a role, contribute and ensure that the task is a success. This can be course or enrichment related, or as a Student Rep etc

Communication & Digital skills - Strong communication skills demonstrated through various forms:

Presentation created and delivered using PowerPoint/ digital presentation software (Level 1 and above)

Conduct online learning by accessing learning platforms, online resources and submit documentation in a safe and encrypted way (Level 2 and above)

Can communicate and learn appropriately using online video conferencing software (Level 3)

Creative Ideas - Has shown imagination, innovation and creativity either practically or generation of ideas referenced to an assessment, task or activity

Problem-Solving - Has shown problem-solving abilities referenced to an assessment, task or activity
English and Maths for All Students
The development of skills in English and Maths is critical to the development of personal, social and employability skills needed when progressing either to university or your chosen career. At Blackburn College Sixth Form we support you to achieve these life enhancing qualifications.
Who Needs to Do It?
All full-time students aged 16-19 who have not yet achieved an A*-C in GCSE English or Maths will be required to work towards a GCSE Grade C in English and/or Maths as part of their study programme.
The Importance of English and Maths
The CBI (Confederation of British Industry) Education & Skills Survey 2012 identified literacy and numeracy as the top priority skills employers look for in 14-19 year olds, and also commented that, in terms of literacy and numeracy, GCSE passes at grades A*-C in English and Maths are seen as the best qualifications in terms of equipping young people with the skills needed at work.
The CBI also identified the fundamental, underpinning facet of employability as having 'a positive attitude'. At Blackburn College Sixth Form, the need for a positive attitude to learning and work is constantly reinforced through lessons, tutorials and enrichment activities. Key areas covered in the classes include:
Communication skills

General mathematical awareness and its application in practical contexts

Self-management and readiness to accept responsibility

Team working

Business and customer awareness

Problem-solving - analysing facts and selecting appropriate solutions

Application of information technology