Entry Requirements
This course is suitable for senior technicians and master technicians and engineers
Key features and benefits
Rated "Good" by Ofsted in all areas - as of January 2022
Learn in new Hybrid Electric Automotive Training (HEAT) facility
Benefit from significant funding and investment from Department of Education
Develop future-proofed set of skills
Overview
The IMI Level 4 Award in Diagnosis, Testing and Repair of Electric/Hybrid Vehicles and Components (QCF) is designed for technicians who are required to work 'live' on the electric/hybrid vehicle power train. The course provides clear understanding of the health and safety of individuals working on electric/hybrid vehicles.
On completion of this qualification technicians will be able to practically demonstrate that they have the skills required for repairing high voltage vehicle systems, components and associated systems. It is the first qualification to address live electric vehicle (high voltage) technology.
You will study in our world-class £5.5m Regional Automotive Technology Hub (RATH), which was developed collaboratively with leading car manufacturers. The Hybrid Electric Automotive Training (HEAT) areas will provide you with state-of-the-art workshops that look and feel just like industry.
Within our world-class facilities, you will get to work on our brand-new range of electric/hybrid vehicles, enabling you to develop a future-proofed set of skills.
What will I study?
The course covers the following:
Safety equipment and procedures
Carry out insulation resistance testing on the High Voltage System and components
Understand the use of live data and actuation tests to assist you in the diagnosis of the High Voltage System
Potential equalisation connections and testing
Interlock connections on DC cables – using vehicle wiring diagrams
Carry out battery management system relay weld testing
Test the power relays (contactors)
Diagnose high voltage system faults, identify and minimise potential risks and demonstrate a safe working practice throughout
Diagnose, remove and refit high voltage battery component
Entry Requirements
This course is suitable for senior technicians and master technicians and engineers. You will need to have IMI Level 3 Award in Electric/Hybrid Vehicle System Repair & Replacement qualification.
How will I be assessed?
You will be required to complete a range of practical, oral and written assessments.
What can I do next?
This qualification will allow you to progress on to employment and/or career progression in the EV sector.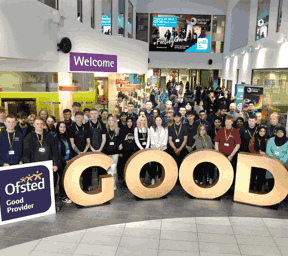 Rated "Good" by Ofsted

January 2022