Entry Requirements
This course is suitable for individuals who possess appropriate vehicle maintenance, repair knowledge and skills at Level 2
Key features and benefits
Rated "Good" by Ofsted in all areas - as of January 2022
Learn in new Hybrid Electric Automotive Training (HEAT) facility
Benefit from significant funding and investment from Department of Education
Develop future-proofed set of skills
Overview
The IMI Level 2 In Electric/Hybrid Vehicle Routine Maintenance Activities is designed for technicians who maintain and repair electric/hybrid vehicles. It contains the skills and knowledge required to work safely around the electric/hybrid vehicles high and low voltage electrical system and electric drive train systems, whilst carrying out repairs and maintenance.
The qualification provides you with the knowledge and skills required to work safely around Electric/Hybrid vehicles whilst carrying out routine maintenance and repair activities (not high voltage components or systems). This may include vehicles that may have or had damage to their high energy/electrical system.
You will study in our world-class £5.5m Regional Automotive Technology Hub (RATH), which was developed collaboratively with leading car manufacturers. The Hybrid Electric Automotive Training (HEAT) areas will provide you with state-of-the-art workshops that look and feel just like industry.
Within our world-class facilities, you will get to work on our brand new range of electric/hybrid vehicles, enabling you to develop a future-proofed set of skills.
What will I study?
The course contains one mandatory unit covering:
Electric/Hybrid vehicle system components and operation
Hazards surrounding electric/hybrid vehicles
How to reduce the risks to yourself and others when working on electric/hybrid vehicles
Safely preparing the vehicles when carrying routine maintenance (not high voltage components or systems)
Entry Requirements
This course is suitable for individuals who possess appropriate vehicle maintenance, repair knowledge and skills at Level 2.
How will I be assessed?
You will be required to sit an online examination and carry out a practical skills assessment at the end of the course.
What can I do next?
After this course you may consider the Level 3 qualification, which further develops your knowledge and skills within a technical role, carrying out repair and replacement of high voltage components on Electric/Hybrid vehicles: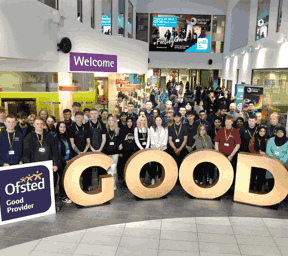 Rated "Good" by Ofsted

January 2022