Entry Requirements
There are no formal entry requirements for this qualification. Some prior knowledge or industry experience is desirable
Key features and benefits
Rated "Good" by Ofsted in all areas - as of January 2022
Learn in new Hybrid Electric Automotive Training (HEAT) facility
Benefit from significant funding and investment from Department of Education
Develop future-proofed set of skills
Overview
The IMI Level 3 Award in Automotive Refrigerant Handling is designed for Air Conditioning technicians of the new legislation related to handling and serving air conditioning systems to meet the European Union F-Gas MAC regulations (Commission Regulation EC 842/2006 and the annex EC 307/2008). It also includes the newly introduced R1234yf which replaces the R134a refrigerant.
The course will allow MAC technicians to legally recover F-Gas (fluorinated greenhouse gas) from air conditioning systems in motor cars and car derived vans. You will achieve an understanding of components and system operation, to carry out procedures relating to air conditioning systems.
You will study in our world-class £5.5m Regional Automotive Technology Hub (RATH), which was developed collaboratively with leading car manufacturers. The Hybrid Electric Automotive Training (HEAT) areas will provide you with state-of-the-art workshops that look and feel just like industry.
Within our world-class facilities, you will get to work on our brand new range of electric/hybrid vehicles, enabling you to develop a future-proofed set of skills.
What will I study?
The course covers the following:
Demonstrated knowledge and skills associated with the operation of air conditioning systems
Gain an awareness of the environmental impact of fluorinated greenhouse gases
Know the common procedures for recovering fluorinated greenhouse gases
Be able to demonstrate how to handle a refrigerant cylinder
Be able to connect and disconnect a recovery set to and from the service ports of a vehicle A/C system
Be able to operate a recovery set appropriately
Entry Requirements
There are no formal entry requirements for this qualification. Some prior knowledge or industry experience is desirable.
How will I be assessed?
You will be required to sit an online examination and carry out a practical skills assessment at the end of the course.
What can I do next?
After this course you may consider the Level 4 qualification, which further develops their knowledge and skills within a technical role, carrying out diagnosis, repair and testing of high voltage components on Electric/Hybrid vehicles: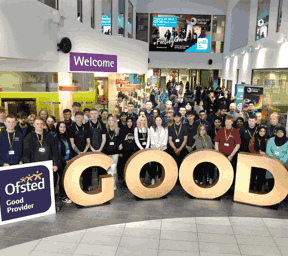 Rated "Good" by Ofsted

January 2022