Key features and benefits
AAT Accounting Qualifications are a professional, highly respected sign of commitment and excellence in the industry
A strong track record of delivering AAT qualifications
Experienced tutors and high levels of support
The Level 1 Award in Bookkeeping offers students the opportunity to develop practical bookkeeping skills. This qualification may help students to move on to further study in either accountancy or bookkeeping with AAT, offer a route into employment or be of interest to those already in employment.
Overview
This qualification will particularly suit those students who have had minimal work experience or those who need some additional support to progress. This may include younger students seeking tangible and finance-specific skills, adults seeking to validate their existing skills to enter into or progress in their career, or students who would like to test their abilities before progressing further with AAT. This qualification may also interest those who are self-employed or working in small businesses who wish to do their own bookkeeping.
If you are aged 19+ and are in receipt (and can provide proof of) UC, JSA and ESA (WRAG), this qualification would be fully funded.
What will I study?
This qualification covers a range of skills and the relevant supporting knowledge in one mandatory unit - Bookkeeping Fundamentals. The qualification is assessed in one end-of-qualification assessment.

Students completing this qualification will develop an understanding of the role of the bookkeeper, including the need to produce timely and accurate work and to follow ethical principles. Students will learn underpinning theory including how to identify assets, liabilities, income, expenses, capital profit or loss, and the differences between trading for cash and trading on credit. Students will also develop the skills to process customer and supplier transactions, to enter receipts and payments into the cash book and check amounts against the bank statement in preparation for bank reconciliation. Students will be introduced to the dual effect of transactions. This is a fundamental underpinning concept for double-entry bookkeeping and will support students who go on to study bookkeeping at Level 2.

Students will also learn the role that software can have in bookkeeping and the benefits and risks that different types of software may bring. They will explore the differences between cloud accounting software and traditional accounting software and learn about the importance of software security and the steps that can be taken to keep data secure.
Entry Requirements
There are no entry requirements for this qualification.
How will I be assessed?
Students must successfully achieve one mandatory unit assessment to achieve this qualification.

The proportion of this qualification assessed by externally marked assessment is 100%.

The assessment in this qualification:

is set and marked by AAT
is computer based
is time-limited
is scheduled by training providers or assessment venues
takes place at approved training providers and assessment venues under controlled conditions.

This qualification is not graded. To pass the qualification, students must pass one mandatory assessment.
What can I do next?
The skills developed by studying this qualification will give students a solid base from which to seek employment with greater confidence or enable them to progress to the next level of learning.

The skills developed in this qualification can lead to employment in junior or supporting administrative roles in companies across a wide range of sectors, for example, as a:

trainee bookkeeper
accounts administrator
billing/payments administrator/coordinator
accounts junior
accounts receivable/payable assistant
procurement and finance assistant
assistant cashier

The skills developed in this qualification may also underpin those developed further in the following AAT Level 2 qualifications:

Level 2 Certificate in Bookkeeping
Level 2 Certificate in Accounting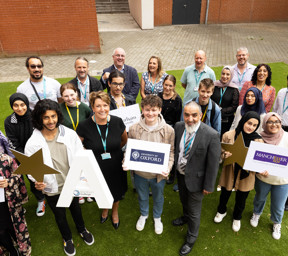 99.7 Overall BTEC Pass Rate

Blackburn College Results August 2021