Key features and benefits
Study at our World Class Campus
Fantastic learning facilities
We work with over 3,000 employers to help you find a job
Rated "Good" by Ofsted in all areas - as of January 2022
This programme, set at Level 5, assumes that you already have a grounding in HR or people management practice, and will enable you to develop your understanding of evidence-based practice (i.e. why we do what we do with in the field of the people management profession).
Overview
This programme, set at Level 5, assumes that you already have a grounding in HR or people management practice, and will enable you to develop your understanding of evidence-based practice (i.e. why we do what we do with in the field of the people management profession). By exploring the thinking and research that underpins the trends and approaches in contemporary HRM, you will develop your understanding of how people practice contributes to the success of organisational performance. You will apply your knowledge to people management issues within a range of organisational contexts, to develop your skills and confidence when advising on matters of law, policy and practice. You will also develop your analytical and consulting skills, preparing you for a role as a HR Business Partner or similar.

How does this fit with professional membership of the CIPD?

On successful completion of the Level 5 qualification, you will gain Associate Membership of the CIPD.

Following successful completion of the Level 5 CIPD Diploma programme course and once you have the appropriate experience and seniority in job role, you may want to consider studying for the Level 7 CIPD Advanced Diploma in Strategic People Management which is a post graduate Masters Level 7 qualification. Successful completion of this will make you eligible to apply for an upgrade to full chartered membership status.

Fees

Course Fees are £2,390.00 per person for 2022/23 academic year. In addition, you will be required to pay direct to the CIPD a joining fee of £40.00 and an annual subscription fee, currently £98 (subject to change). Find out more about this CIPD membership.

Please note: You must remain in membership throughout all the time that you are both on the course and waiting for your certificate to be awarded. The CIPD will not process certificates for anyone who is not in membership, and dealing with such cases can delay the entire group from being processed in a timely manner by the Chartered Institute of Personnel and Development

Students are recommended to purchase the current course book published by CIPD.

Advanced Learner Loan

The above options are also eligible for Advanced Learner Loan funding. This option is not available if your employer is funding the programme. The loan values and payments required to College are: £724.00 loan funded and £1,666 payable to college (subject to change when released each September)

Booking

If you have not completed Level 3 with us, the first part of the application process is to submit your up-to-date Curriculum Vitae and Diagnostic sheet (enclosed) by email to business@blackburn.ac.uk. The Programme Director cannot consider your application until this is received (if you have already done this already for this level and been accepted, you may ignore this part of the process).

You may then be either offered a place or be invited in for interview (or interviewed by telephone) to decide if this is the most appropriate course for you. No monies will be taken until you have been awarded a place on the course. Further joining details will be provided, once the initial decision has been taken.
What will I study?
To gain your CIPD Diploma qualifications you will complete the following units:

Core Units

Organisational performance and culture in practice (5CO01)

The unit examines the connection between organisational structure and the wider world of work in a commercial context. It highlights the factors and trends, including the digital environment, that impact on business strategy and workforce planning, recognising the

influence of culture, employee well-being and behaviour in delivering change and organisational performance.

Evidence-based practice (5CO02)

This unit addresses the significance of capturing robust quantitative and qualitative evidence to inform meaningful insight to influence critical thinking. It focuses on analysing evidence through an ethical lens to improve decision making and how measuring the impact of people practice is essential in creating value.

Professional Behaviours and Valuing People

This unit focuses on how applying core professional behaviours such as ethical practice, courage and inclusivity can build positive working relationships and support employee voice and well-being. It considers how developing and mastering new professional behaviours and practice can impact performance.

Specialist Units

Employment relationship Management (5HR01)

This unit examines the key approaches, practices and tools to manage and enhance the employee relationship to create better working lives and the significant impact this can have on organisational performance.

Talent management and workforce planning (5HR02)

This unit focuses on the impact of effective workforce planning in considering the development of diverse talent pools and how to contract and onboard the workforce. It also includes analysis of the potential cost to the organisation if this is poorly managed and the tools and interventions to mitigate this risk.

Reward for performance and contribution (5HR03)

The unit focuses on how internal and external business factors influence reward strategies and policies, the financial drivers of the organisation and the impact of reward costs. It considers the importance of the role of people practice in supporting managers to make robust and professional reward judgements and the impact of rewarding performance.

Specialist Employment law (5OS01)

This unit considers key areas of employment legislation and its legal framework, focusing on how people professionals are obliged to take account of legal requirements in different jurisdictions when carrying out the varied aspects of their role.
Entry Requirements
You would normally have a CIPD Level 3 qualification, A Levels, a relevant equivalent qualification or relevant work experience, possibly in HR or as a line manager/team leader or supervisor with staff responsibilities.
How will I be assessed?
A range of assessment methods will be used such as assignments, group work, reflective logs and reports. There are currently no examinations at Level 5.

Find useful information about CIPD and insights into their programmes through their website, YouTube channel or Facebook.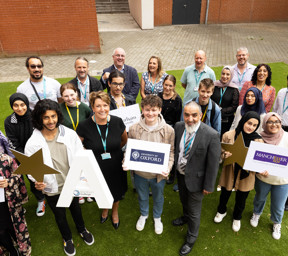 99.7% Overall BTEC Pass Rate

Blackburn College Results August 2021