£1m redeveloped Blackburn Sixth Form officially opened to coincide with Colleges Week
Date posted: 20th October 2021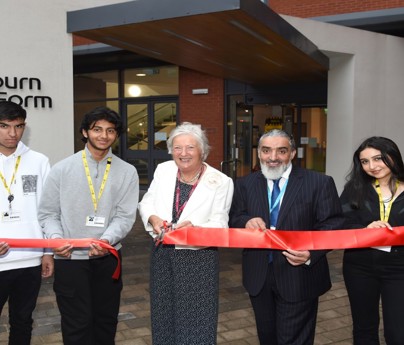 Blackburn College has officially opened its £1m redeveloped Sixth Form to coincide with Colleges Week. 
The ribbon was cut on the new Blackburn Sixth Form by Chair of the Corporation Board Lillian Croston alongside Dr Fazal Dad, Principal and Chief Executive. 
Guests including College governors, staff and students, along with members of local schools and industry partners, attended the event which took place on Monday 18th October to mark the start of national Colleges Week.   
Blackburn Sixth Form is home to 300 A-Level students studying a wide range of A-Level courses along with students studying on a range of complementary vocational qualifications.  The opening of the new centre coincides with the numbers of A-Level students doubling compared to 2020/21 enrolments. 
The redevelopment of the former St Paul's Centre has seen the creation of new social spaces, drop-off facilities, and study areas and an expansion of the number of purpose-built classrooms. It is also home to scientific laboratories, a student hub, computing suites and a café. 
The £1million redevelopment demonstrates our commitment to invest in our 16–18-year-old provision.

Principal and Chief Executive, Dr Fazal Dad
Dr Fazal Dad, Principal and Chief Executive said: "The £1million redevelopment demonstrates our commitment to invest in our 16–18-year-old provision, to ensure our students have access to the highest quality further education, and facilities in a safe and secure environment. 
"In September 2021 we were delighted to open our doors to around 300 A-Level students on the back of an increase in A-Levels A*, A and B grades. 
"Our students also achieved a 100% A-Level pass rate in science subjects including Maths, Further Maths, Biology, Physics. A fantastic achievement! 
"Blackburn College has recently become the North West hub for the OxNet programme which supports students' applications to Oxbridge, Cambridge and Russell group Universities and we are delighted to be working with partner schools to increase applications at the UK's top Universities across our region. 
"We are currently working with five Oxbridge candidates for September 2023 entry and look forward to a significant increase in the number of students securing places at Russell Group universities." 
Blackburn Sixth Form student Zak Patel, who has applied to Jesus College at the University of Cambridge to study Natural Physical Sciences, said: "The new Sixth Form is a fantastic addition to Blackburn College, the new facilities provide a great place for students to study and relax.  
"A new timetable structure has meant that we have more time for individual study as well as enhanced tutorial support, which has been really beneficial helping with our UCAS applications."