Adidas brand and design guru inspires the next generation of designers and marketers
Date posted: 17th September 2021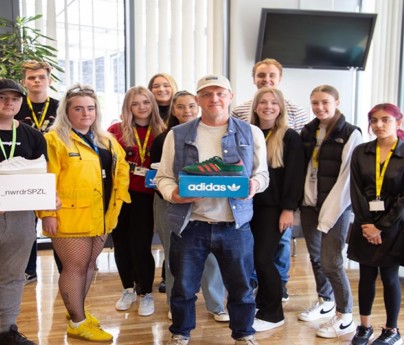 The designer and curator of the adidas Spezial capsule collection for adidas Originals came to Blackburn College University Centre on Wednesday to hold an inspirational talk.
Gary Aspden, who is a former Blackburn College student, returned to the College for a visiting lecture to around 200 Students ahead of The British Textile Biennial headline exhibition: 'CINQUANTA 50 years of sportswear innovation C.P. Company'.
The Darwen-born brand expert is particularly known for his in-depth knowledge of adidas and his vast vintage adidas archive. His work is based in London, but he spends much of his time in Lancashire which he cites as his biggest source of inspiration.
During his motivational talk he discussed careers in the fields of marketing, design, technology and the significance of brand development in the adidas heritage line.
Gary Aspden, said: "It's really important to come back to Blackburn University Centre especially as it's where I completed my studies. I hope my talk will inspire the students here to realise that Blackburn is as good as anywhere to achieve their goals. With hard work and talent, a little bit of luck, they can achieve and get a career in the creative industry."
I hope my talk will inspire the students here to realise that Blackburn is as good as anywhere to achieve their goals.

Gary Aspden
Katie Grime, 34 from Helmshore who is studying a Foundation Degree in Contemporary Fashion,said: "Gary's talk really resonated with me as he had similar experiences to myself growing up. I found it so inspiring to see what he's achieved; it has really motivated me and made me believe that anything is possible if you work for your dreams."
The College is bucking the trend in terms of employer exposure as the 'Prospects Early Careers Survey 2021: jobs, apprenticeships and postgraduate study' states that 'the biggest barrier for university students when searching for a job is having the required work experience'.
Blackburn College is working in partnership across the creative industries in East Lancashire, with globally recognised designers, commissioners, artists and brands who are contributing to the British Textile Biennial. Students have previously worked on the adidas Spezial archive, the installation and invigilation of exhibitions and have assisted internationally recognised artists in the development and presentation of their work.
Caroline Bracewell, Assistant Principal of the University Centre said: "It was an honour to have Gary Aspden come back to Blackburn University Centre to speak to our students about his career and give them an insight into the fashion industry.
"During the past 18-months students across the country have lacked the opportunity to gain exposure to employers, however at Blackburn College we pride ourselves in our fantastic links with a host of top employers including: Deco Publique, Blackburn with Darwen Borough Council, Community Clothing, adidas Spezial, Ainsworth's Jewellers, Super Slow Way and Source Creative.
"Current students and graduates have the opportunity to work on social media skills with Blaze Media, and digital marketing branding and design for the Textiles Biennial. They will also be involved in the National Festival of Making in June and rolling exhibitions at Prism Contemporary. These opportunities ensure that students at Blackburn College are engaged with the industry all year round."