Blackburn College staff and students pay tribute to the Queen at Jubilee tapestry
Date posted: 14th September 2022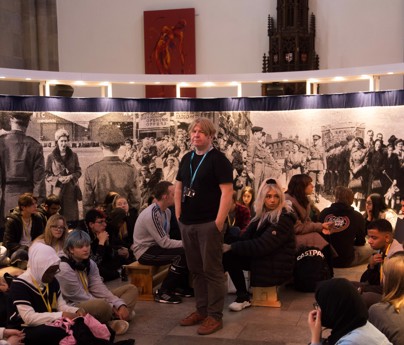 Blackburn College students have paid tribute to the Queen during a visit to see a tapestry which was commissioned for the Queen's Platinum Jubilee.
Students from Art and Design courses were invited along to a special event at Blackburn Cathedral run by Blackburn College lecturer Jamie Holman, who created the artwork which is titled 'The Lancashire Tapestry'.
The tapestry, which is an impressive 19 metres long and 1.6 metres tall, was commissioned by The Lord Lieutenant and industry leaders to mark the Platinum Jubilee in June. The piece is thought to be one of the last pieces of art commissioned with a royal sign-off by the Queen.
Students and staff were invited to a special event in remembrance of the Queen where they had the chance to view the tapestry and ask Jamie questions about how the commission came about, and the processes he went through to create it.
Yasir Hassan who is studying Art and Design Level 3, said: "The piece is really good, and will help me come up with ideas for my own work. I feel inspired by it. The representation of the piece is very timely and a true celebration of Her Majesty Queen Elizabeth II."
Having Jamie Holman talk about it was insightful, it gave us a behind the scenes take on how the piece was created

Rachel Stevenson
For six months, Jamie along with students from Blackburn College University Centre recorded the voices of 70 people across Lancashire who were aged 70 and over, collecting their stories and their recollections of the seven decades of Queen Elizabeth II's reign.
The interviewees hail from many different backgrounds that make up the rich diverse Lancashire population, representing land, sea and rural settings, ranging from mill workers to fisherman to lifeboat rescuers.
The recording produced create a multi-channel soundscape installation that tells the story of The Queen's reign through the voices of a diverse section of Lancastrian communities.
Rachel Stevenson, who is also studying Art and Design Level 3, added: "It's quite different from anything I've ever seen. Seeing the tapestry and hearing the voices of the people recorded gives a different perspective. Having Jamie Holman talk about it was insightful, it gave us a behind the scenes take on how the piece was created."