Blackburn teen on road to success after being offered a place at the University of Oxford
Date posted: 31st January 2022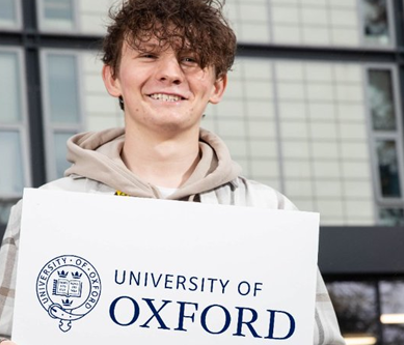 A Blackburn teenager is on the road to success after being offered a place to study Law at the University of Oxford.
Blackburn Sixth Form student Morgan Grimshaw, 18, has been given a place at Pembroke College, on the condition of achieving three A grades at A-Level.
The former Rhyddings Business and Enterprise School pupil is currently studying History, English Literature and Law, and hopes to become a barrister.
Morgan said: "I never imagined I would apply for Oxford, never mind be offered a place. During my time at Blackburn Sixth Form the idea of applying was brought up by my tutor David Jones, and I thought I might as well have a go.
"I was encouraged to attend a virtual summer school at the University of Oxford called UNIQ which made up my mind that I wanted to apply. During UNIQ I was given the opportunity to take part in mock tutorials and lectures as well as learn about other aspects of life at Oxford such as extra-curricular activities and finances."
In October Morgan successfully passed the LNAT Law admissions tests, before being offered a remote interview which he sat at Blackburn Sixth Form in December.
Morgan added: "The LNAT admissions tests are based on law skills and included a multiple-choice exam and an essay. I was most nervous about the interview stage; however, I was given a lot of support from my tutors. We ran through practice questions and held a mock interview so I got the feel for what it would be like.
"When I received the email saying that I had been offered a place it took me a while to process, I was in shock. I'm excited at the thought of going and am working closely with my tutors to ensure that I get the grades I need.
"I'm very grateful for all the support I've received from my parents and tutors, they have gone above and beyond to help me including helping look for scholarships."
When I received the email saying that I had been offered a place it took me a while to process, I was in shock.

Morgan Grimshaw
Dr Fazal Dad, Principal and Chief Executive of Blackburn College said: "We are extremely proud that Morgan has been offered a place to study at the University of Oxford, it's a true testament to his hard-work and dedication that has been evident throughout his time at Blackburn Sixth Form. More than 23,000 people apply for undergraduate study at the University of Oxford, for only 3,300 places, so for Morgan to have been offered a place is an outstanding achievement.
"Although applying to a university such as Oxford can be quite daunting, we encourage all of our students to strive to achieve and support them in all areas of their academic development, as well as through enrichment activities that enhance their applications.

"This year we have ten Year 12 students who are in the process of submitting an Oxbridge application. To assist with this, they will be taking part in our OxNet programme, which is run by the University of Oxford and will help them gain a greater insight into applying for Oxford, Cambridge, or other Russell Group universities. Alongside this our students take part in university summer schools, including at the University of Oxford.
"We very much look forward to seeing what successes await Morgan in the future."
Blackburn Sixth Form will be open on Tuesday 8th February from 4.30pm-8pm for prospective students to come and have a look around and see first-hand the courses on offer and meet tutors. The deadline for applying for a place at Blackburn Sixth Form is 11th February. To apply go to Apply Now | Blackburn College.