Business women join together to celebrate International Women's Day at Blackburn College
Date posted: 10th March 2022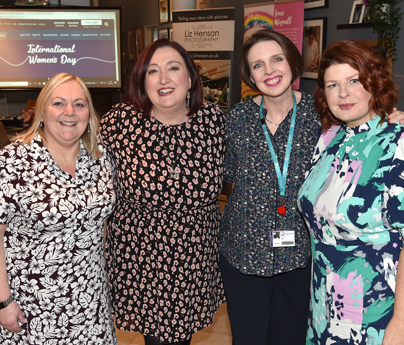 Business women from across the North West joined together to celebrate International Women's Day 2022 at an event held at Blackburn College. 
The event, which took place at the College's Scholars Restaurant on March 10th, saw a range of guest speakers discuss themes around professional development, career growth and breaking the bias.  
The event provided an opportunity for guests to network with other like-minded business professionals as well as to enjoy a two-course dinner. 
Guest speaker Liz Pollard from Bold Moves Coaching hosted the event, and spoke about how she had to fight to be seen in a male dominated industry and provided advice on overcoming your fears to create an impact with your business. 
The event at Blackburn College is a really good way of bringing women together to celebrate one another.
Other speakers included Anne Williamson managing director of Customer Love, who talked about how to improve customer service processes and communication, and Irene Wignall who discussed how she turned around a personal tragedy to write her debut book 'Look for the (effin) Rainbows'. 
Liz Pollard, Managing Director of Bold Moves Coaching, and host of the event said: "Over the last two years during the pandemic, women have shown incredible strength and resilience and we've now got to think how we can use that to take our next steps.  

"The event is about celebrating women from the past who have helped us to get where we are today but also celebrating the women of the present whilst looking at the future and what that means for the younger generation of women. 
"It's important for us to show how strong and courageous women are and share our experiences with each other so that we can help other women through their challenges." 

Anne Williamson, owner of Customer Love and guest speaker said: "The event at Blackburn College is a really good way of bringing women together to celebrate one another. We need to celebrate women more but also support each other." 

Nicola Clayton, Director of Business Development and External Engagement at Blackburn College said: "At Blackburn College we are great believers in equality for all, which is why we were delighted to welcome our guest speakers for our International Women's Day event. 

"Blackburn College is proud to champion equal career development opportunities for all employees, helping students access high quality careers, as well as having many colleagues having worked here for more than 20 years across multiple, progressive roles. "