Engineering lecturers Bradley Collier & Kumaran Rajarathinam receive Technical Teaching Fellowships
Date posted: 14th February 2023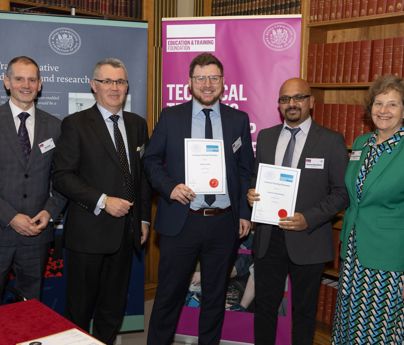 We're delighted to share that our Mechanical and Electrical Engineering lecturers Bradley Collier and Kumaran Rajarathinam have been presented Technical Teaching Fellowships.
 
The pair are the first joint applicants to be awarded and were presented their Fellowships at the Royal Society in London. The Technical Teaching Fellowships for 2023–24, are awarded jointly by the The Education and Training Foundation (ETF) and Royal Commission for the Exhibition of 1851.
 
The application process is a very competitive one so it's a great achievement! The Technical Teaching Fellowship applications must demonstrate highly effective approaches to improving teaching and learning in technical education, how the Fellowship will inspire others, and how professional development opportunities will impact other teachers and trainers'.
 
Bradley and Kumaran said "We are both honoured and delighted to receive this prestigious award and looking forward to seeing where we can take the College's delivery of Engineering. The fellowship will enhance the learning for all Engineering students by allowing us to really focus on how students progress and develop with each other. Furthermore, being a part of the Fellowship, allows networking opportunities that will enable us to establish links with a technical community which will benefit the wider College curriculum."
Being a part of the Fellowship, allows networking opportunities that will enable us to establish links with a technical community which will benefit the wider College curriculum.
Fellows are required to share best practises at national and regional conferences. They will also contribute to a final report to inspire technical education practitioners in their fields.
 
Victoria Wood, Head of Science, Engineering and Business said "I am so proud of both Bradley and Kumaran, and they fully deserve the recognition. We are very excited to see how they use this to inspire other practitioners and further improve quality in our Engineering department."
 
Bradley and Kumaran will use their partnership approach to improve the quality of engineering teaching and training at Blackburn College. A huge congratulations!