Historic Victoria Building Development Announcment
Date posted: 31st July 2023
We're delighted to announce funding has been agreed for the landmark site to become a dynamic hub of adult learning, advanced skills and community activities in the heart of the town  
The flagship project is one of the largest schemes of its kind in the UK and will see the 135-year-old building become a central feature of Blackburn's Town Centre Master Plan.
Work will begin on the Grade II structure this month having secured funding from the Department for Education's (DFE) and planning permission from Blackburn with Darwen Borough Council. The first phase of the project will involve the building surrounded by scaffolding and a protective building wrap before appointed contractors BAM working closely with DfE Technical Advisors begin on it's key structural elements.
Many of the original spacious classrooms and large meeting areas – which had been partitioned to create offices and storage space – will be re-established.
Much of the decorative panelling, ornate coving and stained glass will also be rejuvenated, false ceilings will be removed, while a labyrinth of corridors, stairwells and reception areas will be refreshed.
One of the most dramatic transformations will involve turning the entire top level of the building into a live performance area for both student and community events.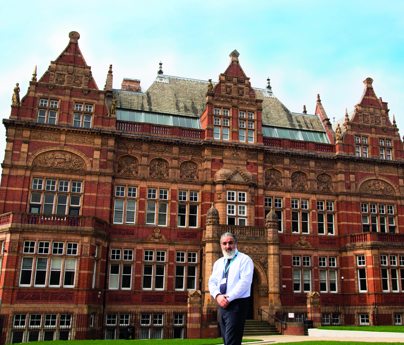 Dr Fazal Dad, Principal and Chief Executive of Blackburn College, said: "The restoration of the Victoria Building is much more than just an upgrade of learning facilities, it will bring a magnificent community and civic asset back to life and create new opportunities for everyone.
"Furthermore, it will act as gateway to the wider Blackburn College campus which is also enjoying a significant multi-million pounds investment in new learning facilities, classrooms and equipment."
The Deputy Leader of Blackburn with Darwen Council, Councillor Quesir Mahmood, added: "The Victoria Building is iconic and part of our wider development of the Blackburn Cultural Quarter. This is a fantastic commitment by the Department for Education and Blackburn College – a welcome boost for our town."
Following the closure of the Victoria Building this Autumn, temporary classrooms will be installed in the nearby college car park.
Keep up to date with the stages of development, from the build of the scaffolding, to the behind-the-scenes story of what's happening underneath on our dedicated Victoria Building Development webpage here.