Students take inspiration from EG Group
Date posted: 28th April 2022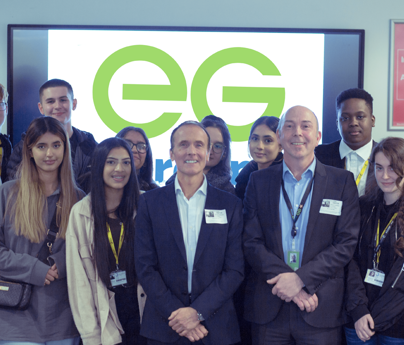 Blackburn College Business Students welcomed EG Group to speak to them about how they train their employees.
The students on the Level 3 BTEC course heard from Head of Learning and Development Vincent O'Donovan and Apprenticeship Manager Spencer Harrison as part of their Training and Development module. As well as giving advice and providing examples of the learning and development opportunities at EG Group, the pair spoke about the background and development of the EG Group.
Student Samreen Akhtar, 18 from Blackburn, who has previously attended Our Lady and St John Catholic College, said: "I really enjoyed the session, it was very insightful and will definitely help me with the module.
I really enjoyed the session, it was very insightful and will definitely help me with the module

Samreen Akhtar
It was also really interesting to hear about EG Group has developed over the years."
Vincent O' Donovan, Head of Learning and Development at EG Group, said: "It was a pleasure to visit and speak with Blackburn College students about how EG Group trains and develops employees. It was a great opportunity to work collaboratively and inspire the next generation and we are keen to support the local community and raise awareness of the opportunities that are available at EG Group locally."