Entry Requirements
Completion of a Level 1 course or 4 GCSE Grades of 3 or above
Timetable
Check with your tutor
---
Key features and Benefits
Real experience of working in Scholars our College restaurant - rated TripAdvisor number 1 restaurant in Blackburn
Rated 'Good' by Ofsted in all areas - as of January 2022
We work with employers to help you find a job
Fantastic learning facilities
---
Overview
This all-encompassing hospitality and travel course offers you excellent opportunities to develop skills in all sectors of the hospital and travel industry.
Suitable if you work, or want to work in the hospitality or travel sector as you will develop a high standard of customer service skills and learn workplace essential knowledge within a hospitality and travel environment. You will gain realistic work experience within Scholars Restaurant, rated number 1 in Blackburn by TripAdvisor where you can practice and develop your industry level skills.
You will gain an excellent range of opportunities including working within bars and restaurants, including fine dining, along with experiencing the accommodation sector hotels. All of which will provide you with an ideal grounding for progression onto higher qualifications such as Level 3 Professional Cookery or Level 3 Travel and Tourism, moving into employment and possibly even travelling the world.
We can arrange up to 30 hours of work placements for you with our partners, giving you the benefit of enriching your CV with valuable real work experience. During the course you will also benefit from a range of enrichment trips which allows you to see first-hand how the industry works.
What will I study?
You will study units such as:
Maintenance of a safe, hygienic and secure working environment
Working effectively as part of a hospitality team
Give customers a positive impression of yourself and your organisation
Maintain food safety when storing, holding and serving food
Serve food at the table
Serve alcoholic and soft drinks
Prepare and serve wines
Resolve customer service problems
Promote additional products and services to customers
Employment rights and responsibilities within the hospitality, leisure, travel and tourism sector
Entry Requirements
Completion of a Level 1 course or 4 GCSE Grades of 3 or above.
How will I be assessed?
The course will comprise of 75% practical and 25% theory.
You will be assessed using the following methods:
Observation
Projects
Questioning (this could be verbal or written)
What can I do next?
Students can go on to a range of courses and careers. For example:
Professional Cookery Level 2
Travel and Tourism Level 3
Employment in Industry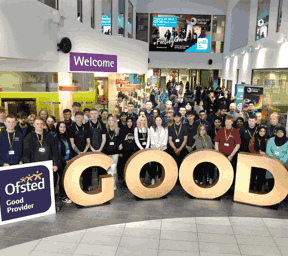 Rated 'Good' by Ofsted - January 2022