Entry Requirements
Initially none although some prior knowledge of computers would be useful
Duration
20 weeks x 3 hours
Key features and benefits
Study at our modern Campus
Fantastic learning facilities
Connections with over 3,000 employers to help you find a job
Rated "Good" by Ofsted in all areas - January 2022
Overview
This course is suitable for those wanting to develop their AutoCAD skills or for occasional users who want to work with AutoCAD drawings. This course will allow you to use basic editing commands and produce simple hard copies.
What will I study?
On the course you will be able to:
Use associated IT, CAD hardware and operating systems
Use basic file management techniques and maintain health and safety requirements
Use and identify key components of the software relating to the 2D drawing environment
Use a range of viewing commands and setup the drawing space
Use drawing commands to produce drawings from various industries
Modify existing drawings
Use the CAD software's coordinate system to aid accurate drawing
Use hatch, text and simple dimensioning routines
Entry Requirements
Initially none although some prior knowledge of computers would be useful.
How will I be assessed?
You will be assessed with two practical assignments and a short-written exam.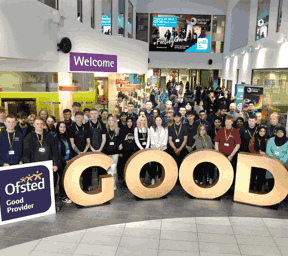 Rated "Good" by Ofsted

January 2022