Entry Requirements
You will need 4 GCSEs at Grade 5 or above - and a Grade 5 in Higher Tier Maths
Duration
2 academic years
---
Key features and Benefits
New Blackburn Sixth Form
100% A-Level pass rate in 20 subjects
Increase in A-Level high grades A*, A, B
You may wish to study Further Mathematics, Accounting, Computer Science or Business alongside this A-Level
---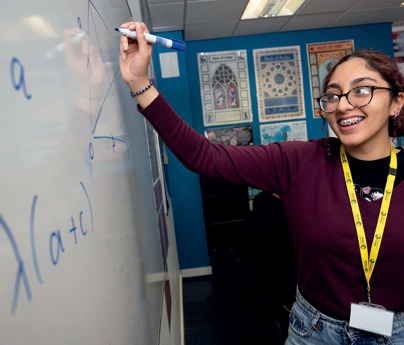 Overview
Do you like solving problems? Have you got a clear and logical mind? Do you like a challenge? If so A-Level Mathematics is the subject for you. Mathematics is not only interesting, but the skills that are developed are sought after by employers.
The aim of the course is to not only enhance students' knowledge of pure Maths but also the application of Mathematics and build upon what you have learnt in school. Mathematics compliments other subjects such as Physics, Biology, Chemistry, Computing and Psychology.
What will I study?
You will study pure Maths which is primarily the core algebra skills and this includes methods such as quadratic functions, surds, rearranging formulae, and trigonometry and calculus methods.
In addition to the pure Maths, you will also study Applied Maths and this is split into two areas: mechanics, which is essentially forces and motion, and statistics, which includes interpreting and representing data.
In the second year of study you will continue to build on the knowledge you have gained in the first year in all three areas: pure, mechanics and statistics.
Entry Requirements
You will need 4 GCSEs at grade 5 or above with at least a Grade 4 in GCSE English Language. Please note for A-Level Maths you will need a Grade 5 in Higher Tier Maths.
How will I be assessed?
A-Level Mathematics is exam based only and you will sit three exams.
What can I do next?
Gaining an A-Level in Mathematics provides both universities and employers with the evidence of someone with the ability to recognise problems and produce clear and concise solutions. This course is great for those who want to study a degree in Mathematics, Pharmacy, Engineering, Physics or Medicine.
Career Options
Acoustic Consultant
Actuary
Astronomer
Chartered Accountant
Data Analyst
Investment Analyst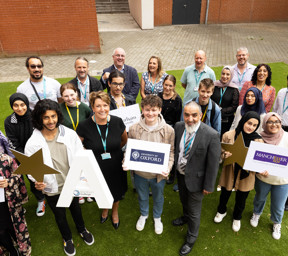 100% A-Level pass rate in 20 subjects

August 2022