Key features and benefits
Study at our World Class Campus
Fantastic learning facilities
We work with over 3,000 employers to help you find a job
Rated "Good" by Ofsted in all areas - as of January 2022
Overview
The course is for anyone who wants a career change into the Gas Industry or aimed at Plumbers who hold a plumbing qualification and want to add a gas qualification.
What will I study?
You will study all aspects of Gas Safety Installation and Maintenance including pipework, tightness testing and purging, combustion, burner pressures and gas rates, flue gas analysis, flues and ventilation, gas controls, unsafe situations, gas regulations, gas appliances and the safe isolation of electrical equipment.
Entry requirements
All candidates must have a fully qualified gas mentor who is willing to sign off the candidates portfolio.  Candidates and Mentors must attend an interview with a gas trainer/assessor the candidate must pass psychometric tests in English and Maths before commencing the course.
How will I be assessed?
The course is made up of 9 weeks in college broken down into four two week blocks and a final week.  The course will include classroom based theory sessions with practical sessions to put the theory into practice, therefore enhancing your learning of the subject.
You will complete knowledge and understanding theory papers covering all topics, the pass mark is 100% on all papers. When you are not in college you will start to build up a portfolio of evidence from work undertaken on-site with your mentor, this includes 12 weeks of mentored learning recorded on job sheets provided by the Certification Body.
What can I do next?
Once you have at least one "Core" element, you can then change over to LPG, Catering or Non-Domestic which will further enhance your earning potential.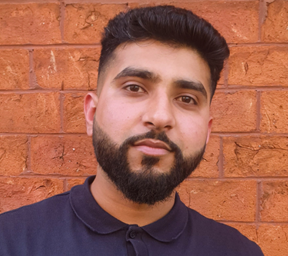 I found my time in Blackburn College life changing

Imran Ajaaib