Entry Requirements
Level 2 Diploma in Media Make up or a related course
Timetable
Check with tutor
---
Key features and Benefits
Gain experience and work with real clients at Academy Hair and Beauty Studio
Learn directly from experienced stylists, beauticians and makeup artists
Take part in work placements within the sector to put your knowledge into practice
Work with some of the biggest brands within the sector including Eve Taylor, Crazy Angel and Neal & Wolf
---
Level 3 in Hair and Media Make-up is a fantastic programme that mixes both the theory and practical skills needed for a career in the media market which covers hair, make-up and creative skills.
Overview
Level 3 in Hair and Media Make-up is a fantastic programme that mixes both the theory and practical skills needed for a career in the media market which covers hair, make-up and creative skills. This course is ideal for those who are interested in the media, fashion, theatrical and magazine shoots.

You will advance your skills and give the creative and technical know-how to build your professional portfolio. Units will include Creative hairdressing skills, face & body art, Fashion and Photographic make-up, Airbrush make-up, Camouflage make-up and dressing hair using a variety of techniques.
What will I study?
The course will include units in artistic hair design, advanced make-up techniques including camouflage, photographic and fashion and will incorporate airbrushing and permanent lash applications. You will cover both mandatory and optional units. Units include:

Monitor and maintain Health and Safety practice
Working with colleagues within the beauty related industries
Camouflage
Apply airbrush make-up to face
Design and apply face and body art
Fashion and photographic make-up
Creative hairdressing design skills
Styling and dressing hair
Media make up
Principles of studio photography
Entry Requirements
Level 2 Diploma in Media Make up or a related course. Applicants with relevant skills or qualifications may be considered at course leader's discretion.

FULL ATTENDANCE AT ALL TIMES IS ESSENTIAL
How will I be assessed?
Practical assessments on models suitable for the look to be achieved during assessment. The outcomes will be graded as Pass, Credit or Distinction. Online or paper based testing and assignments if applicable to units undertaken.
What can I do next?
Once you have completed your Level 3 course, you will be able to progress into employment within the sector or to University.
Discover other courses in Hair and Beauty
Career Options
Hairdresser
If you enjoy hairstyling and like meeting different people, this could be the perfect job for you. Hairdressers cut, colour and shape clients' hair to create the look they want.
You can train as a hairdresser either full-time or part-time at a college. You could also work as a trainee, where you would learn on the job and go to college on day release.
To become a hairdresser, you will need to have customer service and 'people' skills. You'll need creativity and an awareness of fashion. You'll also need a willingness to learn new techniques and methods.
Make-up Artist
As a make-up artist you would apply make-up and style hair for anyone appearing in front of a camera or a live audience. You may work in film, television, theatre, concerts, photographic sessions or fashion shows.
Beauty Therapist
As a beauty therapist you will carry out face and body treatments for clients to help them look and feel better.
To work in this role you need to be open and friendly. You need to be able to make clients feel relaxed and also be a good listener. If you love the idea of making people feel good and look their best, a job as a beauty therapist could be perfect for you.
To get started as a beauty therapist you will usually need a qualification in a related subject such as beauty or beauty therapy. You may also be able to get into this job through an apprenticeship.
Beauty Consultant
Beauty consultants sell beauty products by helping customers choose the right products to buy. In this role you'll give customers advice on how to make the most of their appearance, and sometimes give makeovers to demonstrate products.
To do this job you'll need an outgoing personality and a friendly manner. You'll need to be able to communicate well and have excellent customer service skills. If you're interested in fashion and make-up then this job may be perfect for you.
You don't need any specific qualifications to become a beauty consultant. You'll need a smart appearance and a high standard of personal hygiene. Experience in retail, sales or customer service would be an advantage.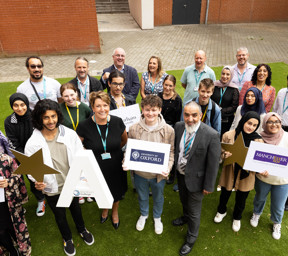 99.7% Overall BTEC Pass Rate

Blackburn College Results August 2021