Entry Requirements
3 GCSEs at grade 2 or above
---
Key features and Benefits
Gain experience and work with real clients at Academy Hair and Beauty Studio
Learn directly from experienced stylists, beauticians and makeup artists
Take part in work placements within the sector to put your knowledge into practice
Work with some of the biggest brands within the sector including Eve Taylor, Crazy Angel and Neal & Wolf
---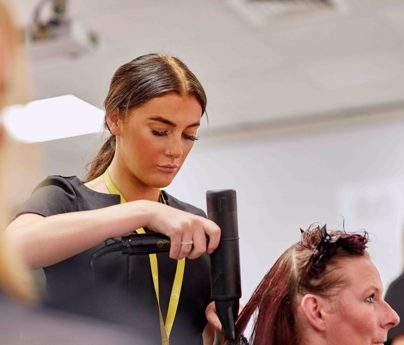 Overview
This programme will give the learner an introduction to the skills required to be successful in the hairdressing industry.
You will benefit from working in our commercial Hair & Beauty Salon, Academy, located on campus.  Working alongside both level 2 and 3 learners, mirroring a real high street salon environment.  In which you will work with the industry leading brands of Wella, Kerastraight, Olaplex and be guided by our tutors who have a wealth of industry experience, skills and knowledge.
You will be introduced to a wide range of skills that you will acquire over the year, in particular, shampooing and conditioning hair, blow drying, plaiting and twisting hair.  In addition you will start your preparation by also understanding a salon setting, in terms of how you present a professional image, prepare and maintain work stations and reception duties.
In addition you will take part in enrichment trips in particular attending HJ Live North Show in Manchester, where you will view new techniques and gain tips from the best hairdressers in the industry by watching their seminars and shows.  Plus you can get up to speed with all the latest hairdressing and styling products.
What will I study?
This course includes the following:-

Health and Safety
Shampooing and conditioning hair
Blow drying
Reception duties
Plaiting and twisting hair
Creating effective working relationships
Preparing and maintaining salon work areas
Plus presenting a professional image.

Uniform:

16-18 year old students qualify for free kit and uniforms.
Students aged 19 and over may qualify for subsidised uniforms based on individual needs.
Entry Requirements
You will be required to attend an interview and provide evidence of good attendance, punctuality and a commitment to achieve, this may take the form of a reference.
3 GCSEs at grade 2 or above.
Full attendance is required at all times.
How will I be assessed?
Practical assessments on models in a realistic working environment. Theory assessment may be either required to be online or paper based, or assignment based.
What can I do next?
If successful in your studies you will decide, through guidance with your tutor, as to which Level 2 Diploma course to follow to enhance your career prospects.
If you are successful in completing your full study programme, have a positive reference, good attendance and punctuality records and have demonstrated a willingness to learn.  Through guidance from your tutor you will be recommended as to which Level 2 course is the best one for you.
Discover other courses in Hairdressing & Barbering
Career Options
Hairdresser
If you enjoy hairstyling and like meeting different people, this could be the perfect job for you. Hairdressers cut, colour and shape clients' hair to create the look they want.
You can train as a hairdresser either full-time or part-time at a college. You could also work as a trainee, where you would learn on the job and go to college on day release.
To become a hairdresser, you will need to have customer service and 'people' skills. You'll need creativity and an awareness of fashion. You'll also need a willingness to learn new techniques and methods.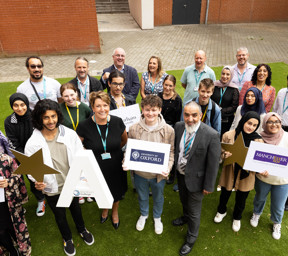 99.7% Overall BTEC Pass Rate

Blackburn College August 2021 Results