Entry Requirements
80 UCAS points
Study Mode
Full time
Part time
Duration
Full time:
3 years
Part time
6 years
Timetable
Monday, Tuesday, Wednesday and Friday
---
Key Features & Benefits
Study in our dedicated University Centre.
Have the opportunity to attend guest lectures from industry specialists to broaden your knowledge.
Be taught by a mix of practicing solicitors and trained teachers giving you real-world insight and academia.
Have the opportunity to volunteer on a work placement to add experience to your CV.
---
Combining an intellectually challenging curriculum with an industry focus, the LLB (Hons) Law degree at Blackburn University Centre gives you a grounding in the key concepts of law, while preparing you for a high level legal career.
Overview
Our Law LLB (Hons) is the more traditional Law qualification that we offer and is a qualification we have delivered for over 20 years.
The law industry, however, is changing and as such our course is currently "Subject to Approval". The specific requirements contained in the Law LLB (Hons) have been changed by the Solicitors Regulation Authority (SRA). 
The Law LLB (Hons) offered at Blackburn University Centre contains the core elements expected in an LLB (Hons) Law degree as well as options in your area of choice as such the course is excellent preparation for a number of careers in Law.
Our Law degree opens up many routes to graduate careers. For those intending to work as practising solicitors or barristers, once you have completed the course you might choose to continue by taking either the Solicitors Qualifying Exam (SQE 1) or the Bar Vocational Course for intended barristers.  
The course is available on both a full-time and part-time basis.  
The overall aim of the programme is to provide a balanced and stimulating academic legal education together with an understanding of the essential practical skills such as debating, mooting and presentations which support employability.
What will I study?
When you study at Level 4, you will study a set of mandatory modules. These modules are aimed at providing students with essential skills required for the study of Law. 

At Level 5 you will build upon these foundations and gain the confidence to engage in analytical and critical thought through completion of mandatory modules and one optional module, which will support your transition into Level 6 study.

At Level 6, there are a mixture of mandatory and optional modules.

All students take a total of 120 credits per level. As the course is subject to validation, the complete list of modules has been supplied below. All mandatory modules will form part of the course and some of the optional modules (but not all) wil be offered.

Level 4 Modules (all modules are mandatory) include:

Academic and Professional Legal Skills

Criminal Law

Law and the State

Legal Systems and Methods

The Law of Contract

The Law of Torts

Level 5 Mandatory Modules include:

Land Law
Law on Trial
Learning through the Workplace
Law and Technology in Practice
Access to Justice, Advocacy and Ethics

There will also be one option made available to you from:

Consumer Law
Criminal Evidence
Family Law
Public Legal Education

Level 6 Mandatory Modules include:

Equity and the Law of Trusts
Contemporary Legal Research
Equality and Advanced Human Rights

There will also be three options made available to you from:

Advanced Criminal Law
Banking and Finance Regulation
Clinical Legal Education
Commercial Law
Corporate Law and Governance
Dissertation
Employment Law
Family Law
Gender and the Law
Legal History
Legal Issues in Sport
Legal Philosophy
Medical Law
Public Legal Education
The Law in Wales
The Law Relating to Children

Optional Modules

Please note, not all optional modules will be made available to you. As the course is Subject to Validation we have made the full list available whilst the exact modules are determined.
Entry Requirements
You'll need 80 UCAS points to join this programme.
Applicants without formal qualifications but with relevant work experience will be considered for entry to the programme subject to an interview or an appropriate diagnostic test that involves the current recommendation process. All applicants must show that they have a good level of spoken or written English, and if English is not your first language you'll need to demonstrate the ability to study in English.
Care Leavers or Young Carers
We want students from all backgrounds to have the opportunity to go to University. If you have spent three months or more in local authority care OR are a young carer, you will be eligible for a contextual offer. This is a grade reduction of 1-A Level grade below our standard entry requirements. For example, a standard offer of CCC, would become CCD. MMM at Level 3 Extended Diploma would become MMP. To apply we advise that you tick the box on your UCAS application which identifies you have spent time in care and to help identify you as eligible for our contextual offer.
How will I be assessed?
Throughout the course a full range of assessment techniques will be used. You could be assessed by examinations, including open-book examinations, practical assessments, assignments, briefs, essays, presentations (including group presentations), reports and portfolio building. 

Each module is formally assessed through, for example, examination, open-book test, individual and group presentation, essay, observation of practice, assessment of course work e.g. art portfolio, written report, reflective practice and portfolios of evidence.  This formal assessment will count towards your module mark and feedback is usually given within 3 weeks following the submission of your formal submission of work.

Additionally, some lecturers will provide informal feedback, for example, following an examination they may choose to work through the exam paper in a tutorial. It should be noted that feedback is part of the ongoing learning cycle which is not limited to written feedback. Other forms of feedback include one-to-one meetings with a personal tutor, dissertation and project supervision meetings, a lecturer responding to learner questions or responses during topic or situation discussions. 

Feedback is intended to help you learn and you are encouraged to discuss it with your module tutor.
Teaching and Learning
You will be taught by an experienced teaching team whose expertise and knowledge are closely matched to the content of the modules on the course.  The team could include senior academics, professional practitioners with industry experience, demonstrators and technical officers.  You can learn more about our staff by visiting our staff profiles.

Timetables

We endeavour to make timetables available one month before you start your course.  Please note that while we make every effort to ensure that timetables are as student-friendly as possible, scheduled teaching can take place on any day of the week.  Part-time classes are normally scheduled on one or two days per week. 

Overall Workload

You overall workload consists of class contact hours, around 15 hours of independent learning and assessment activity and any field trips which may take place.

Academic Support

We have a dedicated Student Engagement Team who will be able to provide support in the following areas;

Study Skills (including reading, note-taking and presentation skills)
Written English
Academic Writing (including referencing)
Research Skills
What can I do next?
Our LLB (Hons) Law programme provides students with a valuable qualification for entry into the legal profession it also provides students with an excellent qualification for entry into an array of other vocations.

For those wishing to enter the legal profession, whether as a barrister or a solicitor, it contains a firm foundation of training for either the Solicitors Qualifying Exam (SQE 1) or the Bar Vocational Course for intended barristers.  

It is also designed to act as a worthwhile qualification for those wishing to enter industry, commerce, education or public service, by providing a comprehensive yet critical understanding of the functioning of law and the legal system in Britain today, within the contextual framework.

The programme also allows students to progress onto further study at postgraduate level with study of a Masters Degree. 
What will my timetable look like?
If you choose to study this course in September 2022, your timetable will consist of the following days of study at our University Centre.

The days that have been set for this course, for the first year intake only, are Monday, Tuesday, Thursday and Friday.

You will be required to undertake work in your own time and also undertake private study. This will be in addition to your taught hours in class. You may also be required to undertake a work placement/work-based learning. This is in addition to the taught timetabled classes, please bear this in mind with your planning. 

The University Centre reserves the right to change timetables for the year ahead and this information is provided to you as a guide. The days of study in subsequent years of the course may vary.
Fees and Financial Information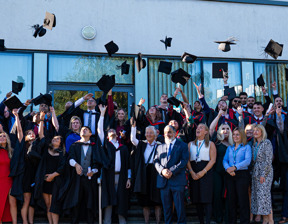 Highest overall student satisfaction in Lancashire