Entry Requirements
4 GCSEs at Grade D/3
Timetable
Check with tutor
---
Key features and Benefits
Go backstage with some of the world's biggest bands. Previous students went backstage at the Download Festival, Snow Patrol and Florence + the Machine
Access professional music software including Avid ProTools and Sibelius 8
Learn in our professional recording studio, mixing facilities and control room.
---
Overview
This course is great for you to get to grips with both Music Performance and Music Technology at Level 2. We use state of the art equipment to give you the best possible experience. We have industry standard facilities, hardware and software, such as Pro Tools and Logic Pro software, Avid C24 and /Allen & Heath GSR24M desks and a range of professional quality microphones.

The course offers valuable experience which sets students on a career focused trajectory through work experience and practical study. On Level 2 Music you will work closely with local employers, experience guest lectures from industry professionals and take part in field trips. 
What will I study?
The RSL curriculum is both cutting-edge and relevant to the modern student. In this vocational course you will receive a foundation of knowledge over the wide range of disciplines involved with Music Performance and Music Technology at Level 2. Over the 1 year course you will produce music, record bands and artists, mix live sound for gigs and organise events.
How will I be assessed?
The emphasis of assessments on the course is developing you as a music specialist with a range of skills and approaches to music recording, live performance support, and broader technical and organisational skills that are needed in the real world. There are no formal examinations.
What can I do next?
At the end of the course our students leave with an RSL Subsidiary Diploma: Music Practitioner qualification. This will allow you to progress onto the Level 3 Music Practitioner Extended Diploma. 
Discover other courses in Music
Career Options
Music Teacher
Music teachers give music lessons to people of all ages and abilities. If you are skilled at playing a musical instrument or singing and would like to pass your skills and love of music on to others, then there could be opportunities for you in this job.
Patience and encouragement will help you to teach pupils at a pace that is right for them. You'll also be using your communication skills to share your enthusiasm for music.
There are different entry requirements for this job, depending on whether you want to teach in a music college, primary school, secondary school, or offer private tuition.
Music Therapist
Music therapists use music and sound to help improve people's emotional wellbeing, relieve stress and improve confidence.
If you have a high level of musical ability and would like to use your communication skills to help people improve their lives, this could be the job for you.
In this role you will need to be able to relate well to all kinds of different people. You will also need to be non-judgemental and enjoy helping people.
To get into this job you will need a master's qualification in music therapy. To do a master's course you will need a diploma or degree in music, or a degree in psychology or education.
Musical Instrument Maker-repairer
As a musical instrument maker or repairer you'll use your specialist practical skills to create new musical instruments or repair ones that have been damaged. If you love music and can use your woodworking and metalworking skills to a high level of accuracy, then this could be a job you'll enjoy.
Patience and concentration will help you to make good quality repairs. An appreciation of pitch and sound quality will help you to make sure the instrument is tuned and ready to play.
There's no set entry route to become a musical instrument maker or repairer. Most new musical instrument makers or repairers have learned their skills whilst working, or gained them by completing a relevant qualification.
Music Promotions Manager
Music promotions managers publicise recording artists or live music events. If you've got knowledge of music and the music industry, and you are persuasive and good at negotiating, this job could be ideal for you.
In this job you will need excellent spoken and written communication skills. You will need to be able to stay organised when working under pressure.
There is no set entry route to become a music promotions manager. Having experience and contacts in the industry can help you find employment. Many people move into this job from other roles within the music industry.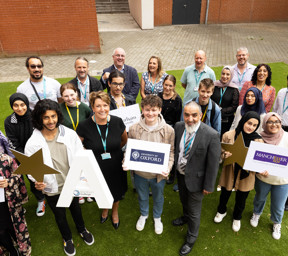 99.7% Overall BTEC Pass Rate

Blackburn College Results August 2021