Entry Requirements
5 GCSEs at grade 4 or above
Timetable
Check with tutor
---
Key features and Benefits
Optimise your performance with our 25m swimming pool, 2 sports halls and 80 station gym
Access to the Sports Performance Laboratory for fitness testing and physiotherapy
Join one of our Sport Academies in football, cricket, netball and basketball and receive expert coaching
Take part in work placement opportunity with a physiotherapist, school or coaching environment
---
This Level 3 Extended Diploma in Sport is for someone who has a real passion for sport. There are many different pathways in sport that this course can lead into once you have completed it.
Overview
This Level 3 Extended Diploma in Sport is for someone who has a real passion for sport. There are many different pathways in sport that this course can lead into once you have completed it.

There are three pathways that you can study on at level three and this is dependant on your GCSE results or choice of pathway.

You will study a vocational sport programme equating to either 1, 2 or 3 A-Levels.

The 1 A-Level equivalent qualification gives you the opportunity to study sports in some capacity alongside 2 other A-Level subjects and is assessed through 2 units per year, 1 of which is externally assessed each year.

The 2 A-Level equivalent qualification is an alternative pathway to increase opportunities and the ability to study at level 3 whilst resitting either GCSE Maths or GCSE English. This can also be studied alongside 1 optional A-Level qualification to increase flexibility of your own interests and studies. On this course you will complete 9 units of which 4 are externally assessed over the two years.

The 3 A-Level equivalent qualification is a full level 3 qualification and you will be enrolled onto this course if you meet the full entry requirements and do not need to resit Maths or English GCSE. On this course you will study 14 units of which 2 are examined in year one and 2 are examined in year 2.

The Level 3 qualifications cover a wide range of opportunities for you to develop within your chosen sporting field. You will research different careers in sport and experience the real-life experience of applying for jobs in sport. You will take part in various practical sessions of Practical Sport, Fitness Testing and Fitness Training. You will investigate the working of the body and how it adapts to various training programmes as well as achievement.

Facilities/Where will I Study?

You will study across different areas of the college in both practical and theory settings. You have exclusive use of the 3-million-pound sports facility development that we are in partnership with Blackburn with Darwin Council. This includes two full sizes sports halls, fully equipped gym, spinning studio, fitness studio, swimming pool and performance lab. Some of your lessons will take place across these amazing facilities.

Your classrooms are fully equipped with interactive whiteboards and spacious learning facilities. You also have access to computer rooms that are used in lessons to develop your confidence in using ICT to learn and complete work.
What will I study?
During your programme you will study different units that include:

Year 1 modules:

Anatomy and Physiology (external exam)
Fitness Training and Programming for Health, Sport and Wellbeing (external exam)
Professional Development in the sports industry
Sports Leadership
Application of Fitness Testing
Practical Sport Performance
Research Methods in Sport

Year 2 modules

Sports Coaching
Injury management
Work Experience in sport
Development and provision of sport and physical activity (external exam)
Investigating business in sport and the active leisure industry (external exam)
Skill Acquisition in Sport
An additional optional unit
Entry Requirements
5 GCSEs at grade 4 or above.
How will I be assessed?
Two of your units are external exams and five are internally assessed through coursework. You will be assessed in different ways for your internal pieces of work. These can include; written reports, PowerPoints, video demonstrations, interviews, practical demonstration of skills amongst other ways.
What can I do next?
Students choose various pathways after completing the A Level; many continue with their studies at university, whilst others gain employment or high level apprenticeships in accounting firms.  Example of destinations :  Deloitte, Accenture, Bank of New York Mellon, Lancaster University, University of Manchester.
Discover other courses in Sport
Career Options
Sports Coach
Sports coaches teach sports skills to individuals and teams of all sporting abilities. They teach everyone from beginners to international professionals. They help people to reach their full potential and take part safely in their chosen sport. If you love sports and want to help people perform at their highest level, this could be the career for you. To become a sports coach, you will need to have a coaching qualification that is recognised by the governing body for your sport. As a sports coach, you will need to be able to plan and deliver training sessions. You will also need to inspire confidence and motivate your students. You will need determination, patience, and a supportive approach towards those you coach.
Sports Development Officer
Sports development officers organise sports based projects and training to encourage people to take part in sport and to have a healthier lifestyle. Their aim is to make it easier for people of all ages and abilities to enjoy sport. If you are enthusiastic about sport and you have great communication and leadership skills, then this could be the role for you. You will also need strong organisational skills and the ability to manage projects and budgets. To get into this work you'll need to have knowledge and experience of how to encourage people to take up sport. Many sports development officers also have a degree or equivalent, in sports development or sports coaching. If you are able to show that you have relevant experience, you may not need a degree. You can often get experience by volunteering for local sports projects.
Nutritionist
If you are interested in healthy eating and want to help improve people's wellbeing, this job could be perfect for you.
Nutritionists need to be able to relate to people from all backgrounds. They need to inspire and motivate people. They also need a non-judgemental attitude.
To become a nutritionist you will normally need an approved degree or postgraduate qualification, or a minimum of seven years' experience in this field.
Fitness Instructor
If you are keen on health and fitness and enjoy meeting different people, this could be ideal for you.
To be a fitness instructor, you could complete a recognised qualification before starting work. Or you could start as an assistant instructor and complete on the job training.
To become a fitness instructor, you will need to be outgoing and friendly. You'll also need to motivate and inspire people.
Personal Trainer
If you are keen on health and fitness and you would enjoy working with a variety of different people, this job could be ideal for you. Personal trainers help their clients achieve their personal health and fitness goals.
To become a personal trainer you would first need to be a fitness instructor with a high level of experience and recognised qualifications.
You will also need good 'people' skills and an outgoing, friendly personality. A knowledge of the way the body works is important too.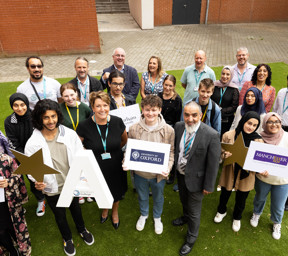 99.7% Overall BTEC Pass Rate

Blackburn College Results August 2021