Entry Requirements
Minimum 48 UCAS Tariff points.
Applicants without the standard entry requirements but with relevant work / life experience will be considered on an individual basis. An assessment task issued at interview may be used as part of the decision-making regarding the applicant.
Timetable
Check with your tutor
---
Key Features & Benefits
Validated by The University of South Wales
An extensive range of interesting and varied modules are available
Engage and take part in the annual Recording Leisure Lives Conference exploring research papers on a variety of topics with academic experts in their field.
---
This Foundation Degree will prepare you for a career in Sports Coaching. Key themes run throughout the course and these are: practical coaching, anatomy and physiology, sports development, sports psychology, physical education and school sports and performance analysis. You will experience placing these overarching themes and skills learnt in a wide variety of sporting activities enabling you to learn academic theories and put them into practice. You will have the opportunity to experience coaching in a large array of sports such as football, hockey, basketball, netball, cricket, badminton and many more.
Overview
Students on the programme will also be provided with the opportunity to undertake UK Coaching Certificates (UKCC) Level 1 and 2 (or higher should you already have Level 1 or 2 coaching qualifications) as part of the course at no additional cost (subject to meeting minimum attendance requirements).  
After successful completion of the Foundation degree, there is the potential to progress onto a top-up degree.
The programme has strong industry links and students on the course are able to specialise in a range of sports and will benefit from guest lectures and visits such as sport scientists, elite coaches, performance analysts and from off-site visits.
What will I study?
The course duration is two years full-time.
Work-based learning is a significant part of the course. You will undertake 140 hours on placement – which we will either help you to find or you may already be working in a suitable role or have your own contacts. You will also take part in practical sessions both on and off- campus where you will benefit from observing and working alongside qualified coaches covering a range of sports. 
All students take a total of 120 credits per level.
Modules include:
Level 4 Modules (all modules are mandatory) include:
Fundamentals of Coaching Children 
Introduction to Sports Coaching
Exercise Physiology 1
Introduction to Sport and Exercise Psychology
Managing Sport
Introduction to Sports Development
Level 5 Modules (there are 4 mandatory modules and 3 optional modules as indicated by * of which you will choose 1) include:
Sport and Exercise Psychology
Sports Coaching and Leadership
Sport Placement 
Enterprise in Sport
Physical Education and Sport*
Performance Analysis*
Optional Modules
If we have insufficient numbers of students interested in an optional module, this may not be offered.  If an optional module will not be run, we will advise you as soon as possible and help you choose an alternative module.
Work Placement
During the course you are required to spend at least 140 hours working in a relevant role in order to improve your knowledge and practice of the subject. This may be through paid employment or via a voluntary work placement in a relevant role. Your work placement is expected to have a focus on applying the knowledge from your degree programme in an employment context.
Please note: work placements are subject to availability.  You are also responsible for any costs in travelling to and from your work placements, for any accommodation costs and in some instances the cost of acquiring a satisfactory Disclosure and Barring Service (DBS) report.
Entry Requirements
UCAS points
Entry Requirements
Minimum 48 UCAS Tariff points.
In addition, for this programme, applicants will be required to have a GCSE (or equivalent qualification) at grade C / 4 or above in English, or an equivalent level 2 qualification in English.
Alternative entry routes
Applicants without the standard entry requirements but with relevant work / life experience will be considered on an individual basis. An assessment task issued at interview may be used as part of the decision-making regarding the applicant.
You should have a genuine interest in coaching rather than simply playing sport – all non-traditional applicants will be interviewed and this will be evidenced at this stage following discussions with the applicant.
You may be required to complete a Disclosure and Barring Service (DBS) check at the start of the course. This will be dependent on potential placement opportunities and if a provider requires a student to have an up to date DBS check.
English Language
If English is not the applicants first language they will need to demonstrate the ability to study in English (please see below). Applicants who do not meet the standard entry criteria but have relevant work / life experience will be considered on an individual basis and may be invited to interview. The interview will consider prior formal qualifications, and evidence of experience gained through employment or other verifiable sources. Students will be admitted when the interviewers are confident that the student has demonstrated sufficient prior knowledge, skill, aptitude and interest to be equally able to succeed as a candidate offering the standard entry criteria.
Care Leavers or Young Carers
We want students from all backgrounds to have the opportunity to go to University. If you have spent three months or more in local authority care OR are a young carer, you will be eligible for a contextual offer. This is a grade reduction of 1-A Level grade below our standard entry requirements. For example, a standard offer of CCC, would become CCD. MMM at Level 3 Extended Diploma would become MMP. To apply we advise that you tick the box on your UCAS application which identifies you have spent time in care and to help identify you as eligible for our contextual offer.
How will I be assessed?
Throughout the course a full range of assessment techniques will be used. You could be assessed by examinations, including open-book examinations, practical assessments, assignments, briefs, essays, presentations (including group presentations), reports and portfolio building. 
Each module is formally assessed through, for example, examination, open-book test, individual and group presentation, essay, observation of practice, assessment of course work e.g. a written report, reflective practice and portfolios of evidence.  This formal assessment will count towards your module mark and feedback is usually given within 3 weeks following the submission of your formal submission of work.
Additionally, some lecturers will provide informal feedback, for example, following an examination they may choose to work through the exam paper in a tutorial. It should be noted that feedback is part of the ongoing learning cycle which is not limited to written feedback. Other forms of feedback include one-to-one meetings with a personal tutor, dissertation and project supervision meetings, a lecturer responding to learner questions or responses during topic or situation discussions. 
Feedback is intended to help you learn and you are encouraged to discuss it with your module tutor.
Teaching and Learning
The learning environment and facilities could include lecture theatres, classrooms, technology suites, laboratories and workshops, library and skills labs, art and photography studios, small group and quiet zones. Learning methods will vary according to the programme of study but will include lectures and group tutorials. In addition, seminars, field trips, work placements, role play or scenario activities, laboratory and workshop practical, demonstrations, guest lectures, discussions and debates all contribute to the learning experience to support the acquisition of subject specific skills and knowledge and the development of transferable and employment related skills.
You should typically expect to have around 15 contact hours per week if you are studying full time.
In addition, you will have timetabled meetings with your personal tutor.  
You will be taught by an experienced teaching team whose expertise and knowledge are closely matched to the content of the modules on the course.  The team could include senior academics, professional practitioners with industry experience, demonstrators and technical officers.  You can learn more about our staff by visiting our staff profiles.
Timetables
On this course, students generally spend up to 2 days a week in College, if you choose to study the course full-time. As all course timetables are subject to change you should not make definite plans based on this information; this information is intended as a guide only. Please remember that you will be expected to carry out work in your own time in addition to the time you spend in College.
Overall Workload
You overall workload consists of class contact hours, around 15 hours of independent learning and assessment activity and any field trips which may take place.
Academic Support
We have a dedicated Student Engagement Team who will be able to provide support in the following areas;
Study Skills (including reading, note-taking and presentation skills)
Written English
Academic Writing (including referencing)
Research Skills
What can I do next?
Graduates from the foundation degree can progress on to BSc (Hons) Sports Coaching (Top Up).
Some of the potential careers that this course can lead on to include work as an elite coach, performance analysis roles in a range of settings, sports development, community coaching, research roles and teaching in a variety of levels: Schools, Further Education or Higher Education for example, subject to the completion of an appropriate Top Up degree and Post Graduate Certificate in Education (PGCE). 
Supplementary Information
Supplementary Information
Work Placements
Work placements are subject to availability. You are also responsible for any costs in travelling to and from your work placements, for any accommodation costs and in some instances the cost of acquiring a satisfactory Disclosure and Barring Service (DBS) report.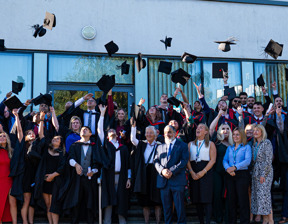 Highest overall student satisfaction in Lancashire