Entry Requirements
Completion of a Level 1 course. 4 GCSE Grades of 4 or above.
Timetable
Check with tutor
---
Key features and Benefits
Serve your creation in Scholars our on campus restaurant
Learn from tutors who have worked in top restaurants – including Michelin starred establishments
Learn your profession in our professional training kitchen
Take part in exciting work placements with top industry names like Northcote, Yu Copster Green and Mytton Fold.
---
This all encompassing hospitality course offers you excellent opportunities to develop skills in all sectors of the Catering industry.
Overview
This all encompassing hospitality course offers you excellent opportunities to develop skills in all sectors of the Catering industry.

Suitable if you work, or want to work as a chef or achieve a senior position within the catering and hospitality sector, you will develop a high standard of cookery skills and learn other workplace essential knowledge in particular health and safety within a modern kitchen.

You will gain an excellent range of opportunities including working within fine dining, hotels, bars and restaurants, which provides you with an ideal grounding for progression onto higher qualifications, moving into employment and possibly even travelling the world.

This is an exciting course during which you willl also learn a range of high level skills and techniques used by pastry chefs and patissiers. You will use a wide range of patisserie materials, equipment and ingredients within structured, practical sessions plus experience a variety of standard patisserie industry practices.

You will learn:

To prepare and cook fish, meat and poultry
To work with fruit, vegetable and egg dishes
To produce rice, pulse and grain dishes
To create authentic pasta dishes
To prepare and bake dough products, cakes and sponges, hot and cold desserts
Create and produce pastry goods

We can arrange up to 30 hours of work placements for you with our partners, such as Northcote, Blackburn Rovers,Premier Inn or Holmes Mill; giving you the benefit of enriching your CV with valuable real work experience.

During the course you will be able to benefit from a range of enrichment trips. Trips have included visits to Holmes Mill (a recent, new venture of a hotel and restaurant), to Ribble Farm Fayre to see how a wholesale Vegetable supplier operates. Plus Local organic cheese making and making mozzerella cheese from water buffalo milk!
What will I study?
To achieve Level 2 in Professional Cookery candidates must complete 18 units.

ou will study units such as:

Give customers a positive impression of yourself and your organisation
Health, hygiene and food safety
Prepare and cook fish, meat & poultry
Produce vibrant fruit & vegetable dishes
Produce rice, pulse & grain dishes
Produce authentic pasta dishes
Create soups and sauces
Produce egg dishes
Produce bread, cakes, sponge products, and hot & cold desserts
Patisserie and confectionery
Entry Requirements
You will have already completed a Level 1 course. 4 GCSE Grades of 4 or above.
How will I be assessed?
The course will comprise of 75% practical and 25% theory.

You will be assessed using the following methods:

Observation
Projects
Questioning (this could be verbal or written)
What can I do next?
Once you have completed your Level 2 Professional Cookery qualification you will be able to move on to Level 3 Professional Cookery or Level 3 Patisserie and Confectionery.
Discover other courses in Catering
Career Options
Kitchen Manager (head Chef)
As a kitchen manager or head chef, you would use your knowledge and experience of professional cooking to lead a team of staff and efficiently run a kitchen.
In this job you will need good leadership skills. You will need to work quickly and calmly when under pressure. You will also need to control a budget. If you are interested in food and you can lead a team in an organised way, this job could be perfect for you.
To get into this job you will need experience in a professional kitchen, running your own section. You can work your way up from kitchen assistant to trainee chef, then section chef and manager/head chef. You may also be able to get into this job through an Apprenticeship scheme.
Chef
Chefs prepare food using a variety of cooking methods. In large kitchens they usually work as part of a team. The head chef runs the entire kitchen.
You will need to have a keen interest in food and cooking, and be able to do several tasks at once. You'll be able to show off your creative side by presenting dishes in imaginative ways.
If you love food and really enjoy cooking, this could be the perfect career for you.
You may not need any academic qualifications to start work as a trainee chef, although it may help if you have a good general standard of education including GCSEs in subjects like English and maths.
Restaurant Manager
Restaurant managers are responsible for making sure that their restaurants run efficiently, and that customers are satisfied with the quality of food and service they receive.
If good food and great service are important to you, this is a role that could suit you well. To do this job, you will need the ability to manage staff. You will also need strong customer service skills, and be comfortable working with figures.
To apply for a trainee manager job, you will usually need a good standard of general education and some relevant work experience.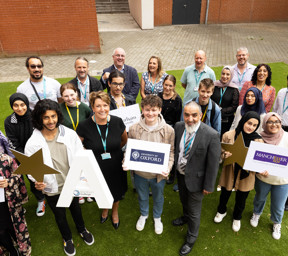 99.7% Overall BTEC Pass Rate

Blackburn College Results August 2021