Entry Requirements
To be able to enrol onto this apprenticeship standard, you will need an employer to support your apprenticeship, who can employ you for 30 hours a week
Timetable
Check with tutor
---
Key features and Benefits
Study at our World Class Campus
Fantastic learning facilities
We work with over 3,000 employers to help you find a job
Rated "Good" by Ofsted in all areas - as of January 2022
---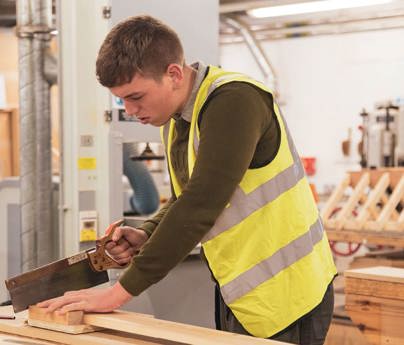 Overview
As an apprentice joiner, you will train to become a qualified, skilled worker, where you will carry out work primarily using timber products either on a construction site, or in a workshop, creating and installing building components. This is a core and options apprenticeship, with two pathways:
Pathway 1: A Site Carpenter will normally work on a building site, or in domestic and commercial premises, preparing and fixing building components, from the initial erection of a new building, through to the installation of all necessary fixtures and fittings, as well as a range of repair and maintenance activities.
Pathway 2: An Architectural Joiner will normally be employed in a workshop producing timber based building components and other architectural products, such as doors, windows, units and staircases, which are then transported to construction sites to be installed by site carpenters.
As an apprentice you will be employed and will combine work with study, attending College one day a week. Your dedicated Assessor, will also visit you in the workplace to carry out assessments and progress reviews.
What will I study?
You will work towards a City and Guilds Level 2 NVQ Diploma in Wood Occupations in either site or bench joinery. You will also work towards maths and English functional skills.
The on programme learning will cover the knowledge, skills and behaviours required to meet the requirements of the apprenticeship standard.
Entry Requirements
To be able to enrol onto this apprenticeship standard, you will need an employer to support your apprenticeship, who can employ you for 30 hours a week. Blackburn College can support you to find a suitable employer. You will need to take part in an interview and initial assessment, to assess your suitability for the apprenticeship.
How will I be assessed?
You will be assessed throughout your on programme learning, both in the workplace and in College, which will contribute to the achievement of the NVQ diploma. On completion of the NVQ and maths and English functional skills you will be able to participate in the end point assessment, where you will be assessed through a skills assessment (written test) and practical test.
What can I do next?
Relevant Higher Level Apprenticeship Course.
Discover other courses in Construction
Career Options
Carpenter Or Joiner
Carpenters and joiners make and install wooden fixtures and fittings. They can work in many areas, for instance on construction sites, fitting out shops and bars, and building sets for film and TV.
If you enjoy working with wood and want to put your practical skills to good use, this could be an ideal career for you.
You'll need an eye for detail, good maths skills for working out measurements and the ability to follow technical plans.
Employers usually want people with some construction experience and relevant qualifications. You could start as a joiner's mate or labourer to get some site experience then take further training to qualify. Another common way into this career is through an Apprenticeship scheme.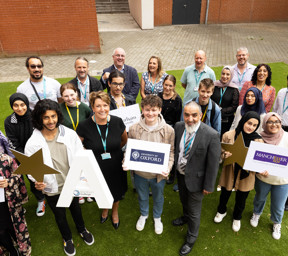 99.7% Overall BTEC Pass Rate

Blackburn College August 2021 Results