Entry Requirements
You will need 80 UCAS points plus English GCSE or Functional Skills Level 2 English or equivalent. Mature students without formal qualifications but appropriate industry experience and/or suitable standard of portfolio work will also be considered at interview.
Timetable
Check with your tutor
---
Key Features & Benefits
Learn about current, industry standard, professional practice from current professionals
Gain the skills and knowledge that will enable you to progress to a career in photography
Develop your photography skills to a professional level
Create opportunities to explore and expand your photographic repertoire through creative practice in both analogue and digital workflows underpinned by research and study.
---
BA (Hons) Photography & Moving Image has been designed to give you the knowledge and real-life skills that are needed to join and sustain a range of graduate-level jobs in industry.
Overview
This is an exciting, but challenging time to be entering the photographic industry. Never has photography been so popular, nor so competitive. As such, this course has been designed to produce graduates that are: socially engaged, culturally and ethically aware photography and moving image practitioners; able to integrate criticality and reflection in their practice; independent thinkers who can collaborate and lead; sophisticated 'makers,' able to utilise contemporary and traditional technology and methodology appropriately for a range of audiences and functioning, and commercially adept practitioners of photography and moving image.
What will I study?
During the course of the programme you will study a range of subjects directly associated with photography and moving image. Alongside all the modules you will develop your academic skills that will help you progress smoothly. All students take a total of 120 credits per level and you will study the following modules:
Level 4 Modules (all modules are mandatory) include:
Contextual Studies (Photography and Moving Image)
Creative Process 1
Location and Studio Practice
Photography and Moving Image
Professional Practice 1
Level 5 Modules (all modules are mandatory) include:
Critical Studies (Photography and Moving Image)
Creative Process 2
Professional Practice 2
Photographic Practice
Moving Image Practice
Level 6 Modules (all modules are mandatory) include:
Dissertation
External Engagement
Extensive Personal Practice and Exhibition
Professional Practice 3
Entry Requirements
You'll need 80 UCAS points to join this programme. Applicants should have and be able to verify that they have a pass in English GCSE or Functional Skills Level 2 English or equivalent as an entry requirement. Proof of this should be shown at the interview. 
Applicants who do not meet the standard entry criteria but have relevant work/life experience will be considered on an individual basis and may be invited to interview. The interview will consider prior formal qualifications, and evidence of experience gained through employment or other verifiable sources. Students will be admitted when the interviews are confident that the student has demonstrated sufficient prior knowledge, skill, aptitude and interest to be equally able to succeed as a candidate offering the standard entry criteria.
Applicants should also exhibit an interest in the subject of photography and/or moving imagery, either as processes or theoretical.
You will also need:
80 UCAS points
The ability to work independently, using your own initiative to resolve sophisticated bodies of work and exhibit the commitment to undertake this three year, higher level course
A digital, single lens reflex camera (with moving image capability)
A 35mm SLR film camera
A functional tripod
A portfolio of photographs and/or moving imagery, presented to a high standard
A pass in English GCSE or Functional Skills Level 2 English or as an entry requirement (proof of this must be shown during the interview)
In addition, throughout the programme, you will be required to invest in materials for the production of and presentation of photographic portfolios and moving-image works suitable for assessment and (at Level 6) a public exhibition. We advise that any equipment or materials queries be directed at the programme delivery team. There may be trips to external locations for workshops, conference or another external event that you will be required to pay for.
Care Leavers or Young Carers
We want students from all backgrounds to have the opportunity to go to University. If you have spent three months or more in local authority care OR are a young carer, you will be eligible for a contextual offer. This is a grade reduction of 1-A Level grade below our standard entry requirements. For example, a standard offer of CCC, would become CCD. MMM at Level 3 Extended Diploma would become MMP. To apply we advise that you tick the box on your UCAS application which identifies you have spent time in care and to help identify you as eligible for our contextual offer.
How will I be assessed?
Assessment will be undertaken through a range of established methodologies at various stages throughout your learning experience. This incorporates standard practices through initial, diagnostic, formative and summative stages. Examples of assessment activity includes:
Essays
Seminars
Projects and Portfolios
Dissertations
Reflective/Summative Reports
Group presentations
Peer assessment
Group assessment
Teaching and Learning
You will be taught by an experienced teaching team whose expertise and knowledge are closely matched to the content of the modules on the course. The team could include senior academics, professional practitioners with industry experience, demonstrators and technical officers.
Academic Support
We have a dedicated Student Engagement Team who will be able to provide support in the following areas:
Study Skills (including reading, note-taking and presentation skills)
Written English
Academic Writing (including referencing)
Research Skills
Work Placement
What can I do next?
Graduates from BA(Hons) Photography and Moving Image can progress onto a range of visual communication careers including: Advertising and industrial, documentary, news and editorial, fine-art, commercial (including e-commerce) community arts, teaching and postgraduate study.
Supplementary Information
Work Placements
Work placements are subject to availability. You are also responsible for any costs in travelling to and from your work placements, for any accommodation costs and in some instances the cost of acquiring a satisfactory Disclosure and Barring Service (DBS) report.
What will my timetable be like?
You will be required to undertake work in your own time and also undertake private study. This will be in addition to your taught hours in class. You may also be required to undertake a work placement/work-based learning. This is in addition to the taught timetabled classes, please bear this in mind with your planning. 
The University Centre reserves the right to change timetables for the year ahead and this information is provided to you as a guide. The days of study in subsequent years of the course may vary.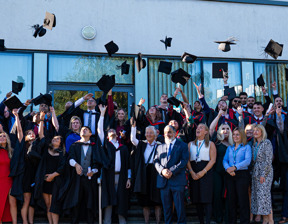 Highest overall student satisfaction in Lancashire