Entry Requirements
Minimum of 48 UCAS points
Duration
Full time:
2 years
Timetable
Speak to your Tutor
---
Key Features & Benefits
Validated by UK Top 15 Lancaster University
Learn from expert lecturers with specialist industry knowledge and experience
Fit your studies around existing commitments
Benefit from smaller class sizes
---
Ever thought why do different people commit different crimes? Why do victims react differently? What is crime and who are the types of people that commit it?, or even wondered, 'What actually constitutes a crime?'. If so, then studying this Criminology & Criminal Justice (FdA) could be for you. 
Overview
As part of the course you will study the areas of law, forensics, psychology and sociology. This course should to appeal to you if you need to fit studying around other commitments, or if you are looking to take your first step into higher education after a gap of study. It is also ideal if you have no previous knowledge of the subject of Law. This Lancaster University validated foundation degree seeks to equip students with the skills and knowledge to assist with their employability in the Justice Sector.

The course contains five streams in criminal justice, criminal psychology, crime and punishment, reflective practice and criminological research. The teaching on the course seeks to reflect the fast-changing nature of the Justice Sector and its innovative methods for inspiring learning have been commended by the Centre for Sociology, Anthropology and Politics (C-SAP) which is the national Higher Education subject centre for the study of Criminology. 
What will I study?
The study of crime requires a multi-disciplinary approach and therefore law, forensics, psychology and sociology are all important subjects on the course. The course's five streams provide a wide learning experience for seeking to understand crime and its treatment by the criminal justice system. The streams also give the opportunity for a student in modules for policing, forensics, offender management and youth offending. The modules are taught in as interactive a way as possible and the use of e-learning is actively promoted. The use of employers and practitioners in delivering the curriculum ensures that the learning is current and relevant to a person seeking to work, or develop in their work in the justice system. The development of skills, in addition to knowledge, is an aim of the course and our experienced and approachable lecturers have a proven track record in delivering a quality learning experience. There is also the opportunity to engage in a Criminal Justice Sector work placement to gain experience of working in the sector. You can get involved in additional activities such as volunteering, guest lectures with key criminal justice representatives as well as trips to prisons, courts and youth offending organisations.

All students take a total of 120 credits per level.

Level 4 modules:

Principles of Criminology
Redefining Crime: New Approaches
Criminal Psychology
Working with Offenders
Understanding the Criminal Justice System
Principles of Criminal Justice
Research Skills
The Reflective Practitioner

Level 5 modules:

Modern Criminal Justice
Research Project
Work Based Learning in the Justice Sector
Crime Control, Prevention and Punishment
Challenging Behaviour
Assessing Risk in the Criminal Justice System

Level 5 options:

Race, Gender and Youth Justice;
Policing and the Police; and
Prison Regimes.

Optional Modules

If we have insufficient numbers of students interested in an optional module, this may not be offered.  If an optional module will not be run, we will advise you as soon as possible and help you choose an alternative module.
Entry Requirements
You'll need 48 UCAS points to join this programme (formerly 120 UCAS points).
All applicants must show that they have a good level of spoken or written English, and if English is not your first language you'll need to demonstrate the ability to study in English.
Applicants who do not meet the standard entry criteria but have relevant work / life experience will be considered on an individual basis and may be invited to interview.
Care Leavers or Young Carers
We want students from all backgrounds to have the opportunity to go to University. If you have spent three months or more in local authority care OR are a young carer, you will be eligible for a contextual offer. This is a grade reduction of 1-A Level grade below our standard entry requirements. For example, a standard offer of CCC, would become CCD. MMM at Level 3 Extended Diploma would become MMP. To apply we advise that you tick the box on your UCAS application which identifies you have spent time in care and to help identify you as eligible for our contextual offer.
How will I be assessed?
Throughout the course a full range of assessment techniques will be used. You could be assessed by examinations, including open-book examinations, practical assessments, assignments, briefs, essays, presentations (including group presentations), reports and portfolio building. 

Each module is formally assessed through, for example, examination, open-book test, individual and group presentation, essay, observation of practice, assessment of course work e.g. portfolio, written report, reflective practice and portfolios of evidence.  This formal assessment will count towards your module mark and feedback is usually given within 3 weeks following the submission of your formal submission of work.

Additionally, some lecturers will provide informal feedback, for example, following an examination they may choose to work through the exam paper in a tutorial. It should be noted that feedback is part of the ongoing learning cycle which is not limited to written feedback. Other forms of feedback include one-to-one meetings with a personal tutor, dissertation and project supervision meetings, a lecturer responding to learner questions or responses during topic or situation discussions. 

Feedback is intended to help you learn and you are encouraged to discuss it with your module tutor.
Teaching and Learning
The learning environment and facilities could include lecture theatres, classrooms, technology suites, laboratories and workshops, library and skills labs, art and photography studios, small group and quiet zones. Learning methods will vary according to the programme of study but will include lectures and group tutorials. In addition, seminars, field trips, work placements, role play or scenario activities, laboratory and workshop practical, demonstrations, guest lectures, discussions and debates all contribute to the learning experience to support the acquisition of subject specific skills and knowledge and the development of transferable and employment related skills.

You should typically expect to have around 15 contact hours per week if you are studying full time.

In addition, you will have timetabled meetings with your personal tutor.  

You will be taught by an experienced teaching team whose expertise and knowledge are closely matched to the content of the modules on the course.  The team could include senior academics, professional practitioners with industry experience, demonstrators and technical officers.  You can learn more about our staff by visiting our staff profiles.

Timetables

On this course, students generally spend up to 3 days a week in College, if you choose to study the course full-time. As all course timetables are subject to change you should not make definite plans based on this information; this information is intended as a guide only. Please remember that you will be expected to carry out work in your own time in addition to the time you spend in College.

There is also a 2 evenings a week option reserved for students in paid work within the criminology and criminal Justice sector

Overall Workload

You overall workload consists of class contact hours, around 15 hours of independent learning and assessment activity and any field trips which may take place.

Academic Support

We have a dedicated Student Engagement Team who will be able to provide support in the following areas;

Study Skills (including reading, note-taking and presentation skills)
Written English
Academic Writing (including referencing)
Research Skills

Work Placement

During the course you are required to spend at least 240 hours working in a relevant role in order to improve your knowledge and practice of the subject. This may be through paid employment or via a voluntary work placement in a relevant role. Your work placement is expected to have a focus on applying the knowledge from your degree programme in an employment context.

Please note: work placements are subject to availability.  You are also responsible for any costs in travelling to and from your work placements, for any accommodation costs and in some instances the cost of acquiring a satisfactory Disclosure and Barring Service (DBS) report.
What can I do next?
Graduates from the foundation degree can progress on to BA (Hons) Criminology (Top Up), validated by Lancaster University.

Some graduates from the programme progress directly into:

Youth Justice roles
Restorative Justice workers
Community Safety Partnership roles
Counselling and Mediation roles
Housing and Homelessness organisations
Community Cohesion partnerships
Anti-social behaviour roles
Victims/Courts roles
Research
Fees and Financial Information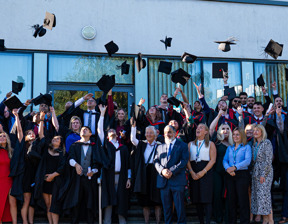 Highest Student Satisfaction in Lancashire
NSS 2022