Entry Requirements
An initial assessment of each candidate will need to be completed
Study Mode
Apprenticeship
---
Key features and Benefits
We work with over 3,000 employers to help you find a job
Rated "Good" by Ofsted in all areas - as of January 2022
---
This qualification is for those who are new to housing and want to gain an understanding of the issues involved in housing. It is also suitable for those that are already working within housing and want to gain a qualification which reflects their skills and abilities.
Overview
A Housing Property Management Assistant works under supervision within the wider organisation/team. The role is varied and includes undertaking housing duties relevant to the team and organisation. Examples include preparing paperwork for service charges, supporting consultations and undertaking customer surveys, undertaking neighbourhood and property surveys using checklists, data administration, conducting supervised viewings and rental negotiations, handling telephone calls, filing and scanning, arranging meetings and events and researching new Initiatives under the instruction of a supervisor.
What will I study?
The standard delivers the following key knowledge areas:

Legislation and Regulation
Business Understanding
Asset Management
Customer Needs
Products and Services
Quality Standards

The Level 2 Apprenticeship - Housing / Property Management Assistant also incorporates the Level 2 Certificate in Housing Practice which includes:

Customer care in the housing context
Careers and opportunities in housing
Housing provision and housing organisations
Developing skills for working in housing
Entry Requirements
An initial assessment of each candidate will need to be completed before the start of their programme to identify:

If the candidate has any specific training needs
Support and guidance they may need when working towards their qualification
How will I be assessed?
For each module students will be provided with a full set of learning materials to support their work and guide within the workshops. Students will submit an assignment at the end of each module. You will be assigned a tutor who will assess and provide feedback on your work, and will be available to support and advise you on any queries about assignments and study topics.

Formative assessment.
Completion of an agreed qualification (recommend)/or assessment of knowledge.
Apprentices without level 1 in English and mathematics will need to achieve this level prior to completion of the apprenticeship and will also be required to take the tests for level 2. Apprentices joining the apprenticeship with level 1 in English and mathematics will be required to take the tests for level 2.
A portfolio of evidence developed throughout the formative assessment process (assessed at end point stage)
Case study (to be assessed as part of end point).
End point assessment.
Assessment of the work based case study this is a synoptic assessment that covers a variety of requirements from across the standard.
Assessment of the portfolio.
A panel interview/viva to confirm the evidence gained from the case study and portfolio.
What can I do next?
Housing and Property Management Level 3 Advanced
Discover other courses in Housing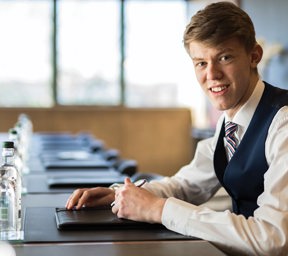 Top 10 in England for 16-18 year old Advanced Apprenticeships

Timely success