Entry Requirements
The CIH Level 2 Certificate in Housing Practice or an equivalent Level 2 qualification or higher
Study Mode
Apprenticeship
---
Key features and Benefits
We work with over 3,000 employers to help you find a job
Rated "Good" by Ofsted in all areas - as of January 2022
---
The level 3 Certificate in Housing Practice is an 18 month work based learning programme which will provide you with a broader knowledge and understanding of key areas in delivering housing services.
Overview
The sessions are delivered as Blended Learning with 4 hour weekly workshop sessions, arranged to meet the organisations requirements (these dates and sessions are agreed with each organisation prior to the course commencing). These are usually delivered within the workplace but may be delivered in the College; arranged to meet the requirements and needs of each organisation. The College will also carry out 11 workplace visits to include observation and learner review sessions.
It is suitable for anyone working in a Generic Housing Environment, Hostel and Foyer staff, Sheltered Housing staff who wish to increase their knowledge and awareness of the housing environment in which they work. Individual private sector landlords and/or letting agencies who wish to gain knowledge and an awareness of the housing environment.
What will I study?
The new apprenticeship standards require students to complete a bespoke package of training which leads them to a specific job role.

Through the course students will develop the skills and knowledge necessary to participate in housing practice, providing students with a detailed understanding of the many facets which underpin good professional practice.

The course focuses on the following mandatory subject areas;

Delivery of affordable housing services
Equality and diversity for housing
Occupancy, tenure and lettings
Prevention and management of rent arrears
Professional practice skills for housing

In addition, students can choose one of five specialist options:

Housing and communities
Housing and support
Housing options and advice
Housing maintenance
Managing properties
Entry Requirements
There are no academic entry requirements but candidates should be working in either a paid or voluntary capacity in housing and must also have completed either:

The CIH Level 2 Certificate in Housing Practice
An equivalent Level 2 qualification or higher

If you don't meet either of the above criteria you may still be eligible, but must have at least 6 months experience of working in the housing sector.

You will be asked to provide evidence of your qualification and/or experience of working in the sector as part of the application process.

An initial assessment of each candidate will need to be completed before the start of their programme to identify:

If the candidate has any specific training needs,
Support and guidance they may need when working towards their qualification
How will I be assessed?
Formative assessment
A portfolio of evidence developed through a formative assessment process
Completion of an agreed qualification/assessment of knowledge
Completion of English and mathematics at Level 2
Each apprentice must also complete a final practical examination, or end-point assessment:
A work based project
A panel interview
The assessment comes in the form of a project or case study which demonstrates that students have gained the knowledge, skills and behaviours  they need to be able to do their job
The apprentice is then assessed by a panel made up by the employer, the training provider and an independent housing professional appointed by the assessment body.
What can I do next?
Once learners have successfully completed this qualification they can progress onto the Level 4 Senior Apprenticeship Housing/Property Management.
Discover other courses in Housing
Career Options
Management Accountant
Management accountants are responsible for managing a company's finances. They look after a company's accounts. They also find ways of improving profitability and growth. So if you are interested in finance and business, this could be just what you're looking for.
To do this job you will need to have good maths and computer skills. You'll need accuracy and attention to detail. You'll also need good communication skills.
To start working you will have to finish training with one of the professional bodies. Most management accountants choose to do this with the Chartered Institute of Management Accountants.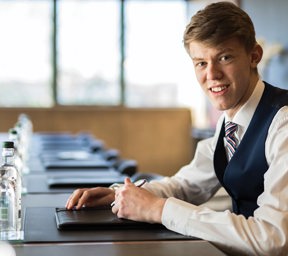 Top 10 in England for 16-18 year old Advanced Apprenticeship success

Timely success