Entry Requirements
You will need 4 GCSEs at grade 5 or above, with at least a grade 4 in GCSE English Language. Please note that you will need a grade 5 in Core and Additional Science and Maths. Alternatively, a grade 5 in Chemistry, one other Science subject and Maths
Duration
2 academic years
Timetable
Check with tutor
---
Key features and Benefits
New Blackburn Sixth Form
High Achievers Programme
Industry Standard Scientific Laboratories
---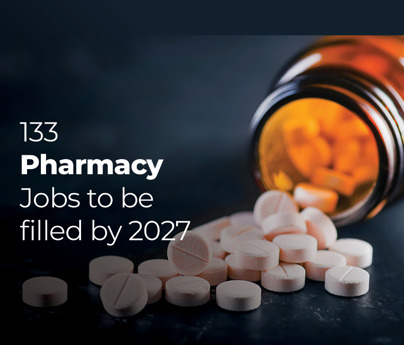 133 Pharmacy jobs to be filled by 2027
Overview
Chemistry has overwhelmingly improved our quality of life. Pharmaceuticals, textiles, semiconductors, composites, healthcare products, detergents and personal care products are some examples without which our lives would be radically different. A-Level Chemistry is taught via a stimulating combination of lessons, practicals and self-study exercises.
What will I study?
In the first year, you will look at foundations of chemistry; which included atomic structure and bonding. Other modules include the periodic table, energy and organic chemistry. In addition to this you will develop your practical skills. Parts of these practical skills are set by the exam board and will always complement the theory taught.

In the second year you will study the above and physical chemistry, transition elements and some spectroscopic analysis. You will further develop your practical skills, some of which form part of the practical endorsement that will appear on your certificate.
Entry Requirements
You will need 4 GCSEs at Grade 5 or above. Please note you will also need a Grade 6/5 in Core & Additional Sciences and Grade 5 in Maths (Higher Tier only) OR if doing separate Sciences Grade 6 in Chemistry, Grade 5 in one other Science & Grade 5 in Maths (Higher Tier only).
How will I be assessed?
A-Level Chemistry is externally assessed at the end the two years of study, via three exams. Two of which are 2 hours and 15 mins and each contribute 37% of the final grade. The third exam is 1 hour and 30 mins and contributes the final 26% of the grade. 
Reported separately as a pass or fail is an endorsment of your practical skills.
What can I do next?
It is likely that you will want to go onto further study at university. An A-Level in Chemistry could help you to get a place on a wide variety of science based degree courses. Chemistry is essential for medicine, pharmacy and environmental science but it is also a well-respected subject in its own right and suitable for entry into a wide range of professions. Alternatively, it may help you straight into the world of work or some work based further training.
Career Options
Doctor - GP
General practitioners (GPs) provide medical care for patients in the community. They diagnose and treat illness, disease and infection.
To become a GP, you will need to complete a five-year degree course in medicine and a two-year foundation programme of general training. You will also need specialist training in general practice which will take three years.
A GP needs to have a genuine desire to help people and a sense of responsibility. They need to be able to put people at ease, and gain their trust and confidence. They also need to be able to work under pressure and make quick decisions. If you have these skills, as well as a strong academic ability in science, then a career as a GP could be ideal for you.