Entry Requirements
You will need 5 GCSEs at Grade 4 including English Language or maths or completion of a Level 2 course at Merit and English or Maths at GCSE Grade 4 or above
---
Key features and Benefits
Join our Career Academy and enjoy guest speakers from the world of business
Take part in work placements with top companies like Barclays, Santander or Marks and Spencer
Visit London's Old Bailey, High Court, Houses of Parliament and East Lancashire Magistrates Court
Demonstrate your entrepreneurial skills in the Dragon's Den, hosted by Boost, Lancashire Business Growth Hub
---
Overview
Business (General) is equivalent to three A levels.  During the course you will study 13 course units,  7 of which are mandatory and 4 are externally assessed. With 5 optional units with choices from Accounting units, Law units or general business.
Business (General )Level 3 Extended Diploma is a 2 year course designed as a specialist programme for students who wish to have a wide range of options to keep career options flexible whether pursuing a career in business, business law or within an accounting environment.
You will get a great insight into all aspects of business whether you have an ambition to set up your own company or be part of a multi-national.  This course will get you started on learning the core business elements of Enterprise, Law, Marketing, HR and Finance.
You will have the opportunity to take part in work placements, with previous students taking placements at Barclays, Santander and Marks and Spencer which really give a boost to job or univeristy applications.
What will I study?
Business units including marketing, finance, event management and international business and optional units that focus on accounts, the legal system, retail and customer service.
Entry Requirements
You will need 5 GCSEs at Grade 4 including English Language or maths or completion of a Level 2 course at Merit and English or Maths at GCSE Grade 4 or above.
How will I be assessed?
The qualification has four externally assessed units and 9 assignment based units.
The projects that you will undertake form the basis of your results which are graded as a Pass, Merit, Distinction or Distinction*.
Discover other courses in Business
Career Options
Project Manager
Project managers plan and organise resources and people to make sure projects finish on time, stay within budget and meet the requirements of the business. They work in all industries from construction to IT.
If you are good at juggling several tasks at the same time, have excellent 'people' skills and can lead a team, this may be the career for you.
To get into this job, you'll need some experience of working on projects, for example as part of a project support team. Training and qualifications will also help, in particular, PRINCE2 certification.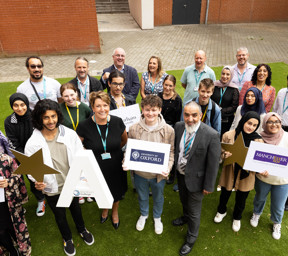 99.7% Overall BTEC Pass Rate

Blackburn College August 2021 Results