Entry Requirements
An initial assessment of each candidate will need to be completed
Study Mode
Apprenticeship
---
Key features and Benefits
We work with over 3,000 employers to help you find a job
Rated "Good" by Ofsted in all areas - as of January 2022
---
Overview
This occupation is found in large and small businesses, in all sectors, and within public, private, and voluntary organisations. Network Engineers are a key occupation in most organisations which are increasingly dependent on their digital networks.
Organisations of all types are increasingly applying digital technologies across all their business functions to maximise productivity. Large organisations will have sophisticated complex systems whilst smaller consultancies offer support to clients on a contract basis.
For example, a Network Engineer may work within a network of hotels to ensure that the booking system functionality and performance is maintained and customer access to courtesy systems such as Wi-Fi are managed appropriately for performance.
In a large infrastructure project, a Network Engineer may work in a team to ensure that significant project milestones are reached in delivering network services both within the project and by servicing the project teams with reliable network capability to enable them to deliver that project successfully.
What will I study?
Some of the modules you will study are:
Install, configure, and test appropriate network components or devices securely to well-defined specifications whether physical or virtual
Acquire and analyse network performance data to monitor network activity
Optimise and maintain the performance of network systems or services in line with well-defined specification whether physical or virtual
Investigate and problem solve to address technical performance issues in networks to return the network to successful operation and escalate as necessary
Entry Requirements
Apprentices without level 2 English and maths will need to achieve this level prior to taking the End-Point Assessment.
For those with an education, health and care plan or a legacy statement, the apprenticeship's English and maths minimum requirement is Entry Level 3. A British Sign Language (BSL) qualification is an alternative to the English qualification for those whose primary language is BSL.
How will I be assessed?
End Point Assessment (EPA)
Assessment method 1: Simulated assessment and questioning
Assessment method 2: Professional discussion underpinned by portfolio
What can I do next?
You can go on to a career within the digital industry.
Discover other courses in Digital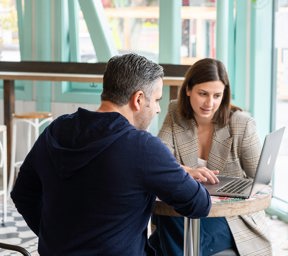 Top 10 in England for 16-18 year old Advanced Apprenticeships

Timely Success