Entry Requirements
Minimum 48 UCAS points
Duration
Full time:
2 years
---
Key Features & Benefits
Validated by UK Top 15 Lancaster University
Study while you work - our timetables allow those already working in the sector to study
---
Our Foundation Degree in Early Childhood Studies is for those students who are working, or who have a desire to work, in the Early Years sector. This qualification aims to enhance individual's knowledge and understanding of the holistic nature of the early years sector.
Overview
Early Childhood Studies degrees provide opportunities for practitioners working with children, families and professionals in various contexts and roles across private, voluntary and independent (PVI) settings. The Foundation Degree will equip practitioners with the knowledge and skills required to articulate and challenge competing factors and perspectives shaping Early Childhood, supporting them in delivering quality, inclusive education and care and in leading change. 
This degree appeals to a wide range of roles and settings within which early childhood studies students work, such as those within private, voluntary and independent education, social care, family, health and legal sectors. 
What will I study?
The modules you will study will examine the theories and principles relating to professional practice within the Early Childhood Care and Education Sectors. Personal Development Planning is also integral to the programme and you will work on developing a portfolio of evidence within the Reflective Journey modules at Level 4 in order to reflect upon the links between theory and practice. The development of this portfolio will illustrate your continuing professional development and professional competencies.
Work Placement
During the course you are required to spend at least 240 hours working in a relevant role in order to improve your knowledge and practice of the subject. This may be through paid employment or via a voluntary work placement in a relevant role. Your work placement is expected to have a focus on applying the knowledge from your degree programme in an employment context.
Please note: You are also responsible for any costs in travelling to and from your work placements, for any accommodation costs and in some instances the cost of acquiring a satisfactory Disclosure and Barring Service (DBS) report.  If you are already working with an Early Childhood Care or Education setting with children under the age of 8, you will usually use this experience instead of completing a formal placement.
All students take a total of 120 credits per level.
Level 4 Modules (all modules are mandatory) include:
Reflective Journey 
Preparation for Research
Early Childhood Development
Play and Creativity
Working with Families and Professionals
Health and Wellbeing
Level 5 Modules (all modules are mandatory) include:
Problem Based Learning
Early Years Research Project
Keeping Children Safe
Pedagogy and Environments
Early Childhood Policy and Legislation
Leading Quality Provision
Entry Requirements
You'll need 48 UCAS points to join this programme (formerly 120 UCAS points).
All applicants must show that they have a good level of spoken or written English, and if English is not your first language you'll need to demonstrate the ability to study in English. Applicants who do not meet the standard entry criteria but have relevant work / life experience will be considered on an individual basis and may be invited to interview.
In addition, for this programme, you'll need a clear current DBS certificate.
Care Leavers or Young Carers
We want students from all backgrounds to have the opportunity to go to University. If you have spent three months or more in local authority care OR are a young carer, you will be eligible for a contextual offer. This is a grade reduction of 1-A Level grade below our standard entry requirements. For example, a standard offer of CCC, would become CCD. MMM at Level 3 Extended Diploma would become MMP. To apply we advise that you tick the box on your UCAS application which identifies you have spent time in care and to help identify you as eligible for our contextual offer.
How will I be assessed?
Once or twice within each module you will complete assessments, often at the end of the module (summative assessment). Examples of assessments are: Essays, Seminars, Portfolios, Dissertations, Reports, Individual presentation, Projects and mini-dissertations, Recap, Peer Assessment, Group assessment, Web Based Concept Maps, Professional Discussions, Case study assessments, Policy critiques, Collaborative tasks and Proposals.

Feedback for assessments is usually given within 3 weeks following the submission. The summative assessment/s at the end of a module will count towards your degree mark.

Additionally, some lecturers will provide informal (formative) feedback, for example, before the submission of a written piece students may choose to work through peer and/or tutor review in order to gain feedback on an ongoing basis. Feedback is intended to help you learn and you are encouraged to discuss it with your module tutor.
Teaching and Learning
The learning environment and facilities could include lecture theatres, classrooms, technology suites, laboratories and workshops, library and skills labs, art and photography studios, small group and quiet zones. Learning methods will vary according to the programme of study but will include lectures and group tutorials. In addition, seminars, field trips, work placements, role play or scenario activities, laboratory and workshop practical, demonstrations, guest lectures, discussions and debates all contribute to the learning experience to support the acquisition of subject specific skills and knowledge and the development of transferable and employment related skills.
You should typically expect to have around 15 contact hours per week if you are studying full time.
In addition, you will have timetabled meetings with your personal tutor.  
You will be taught by an experienced teaching team whose expertise and knowledge are closely matched to the content of the modules on the course.  The team could include senior academics, professional practitioners with industry experience, demonstrators and technical officers.  You can learn more about our staff by visiting our staff profiles.
Timetables
We endeavour to make timetables available one month before you start your course.  Please note that while we make every effort to ensure that timetables are as student-friendly as possible, scheduled teaching can take place on any day of the week.  Part-time classes are normally scheduled on one or two days per week. 
Overall Workload
You overall workload consists of class contact hours, around 15 hours of independent learning and assessment activity and any field trips which may take place.
Academic Support
We have a dedicated Student Engagement Team who will be able to provide support in the following areas;
Study Skills (including reading, note-taking and presentation skills)
Written English
Academic Writing (including referencing)
Research Skills
What can I do next?
As well as the award of Foundation Degree in Early Childhood Studies awarded by Lancaster University, you will have achieved an innovative qualification which will allow you to progress onto a number of different career options.  
Students who successfully complete the FdA in Early Childhood Studies will be able to progress onto the BA (Hons) Top Up Year. Students who successfully complete and gain a good degree in BA (Hons) Early Childhood Studies will be able to progress onto postgraduate routes such as:
Early Years Initial Teaching (ITT)
Early Years Teaching Status (EYTS)
Post Graduate Certificate in Early Years with EYTS (0-5 years)
Post Graduate Certificate in Early Years and Primary Education (3-7 years)
Post Graduate Certificate in Education FE/HE
Masters in Social Work, Psychology or other relevant discipline
Postgraduate routes are subject to individual awards, applications and institutions.
Supplementary Information
Supplementary Information
The Programme Specification will give you further information about the course structure, learning outcomes and detailed information about the assessment you can expect during the course.
Work Placements
Work placements are subject to availability. You are also responsible for any costs in travelling to and from your work placements, for any accommodation costs and in some instances the cost of acquiring a satisfactory Disclosure and Barring Service (DBS) report.
Fees and Financial information
Going to University is not as expensive as you think. There are no upfront fees to pay if you take out a Tuition Fee Loan from Student Finance England. Don't forget to apply as early as possible to secure your fees before you start your course.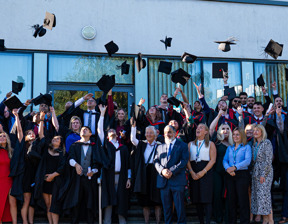 Highest overall student satisfaction in Lancashire