Entry Requirements
You must be over 19 years of age and you should have a reasonable level of written and spoken English
---
Key Features & Benefits
Study at our modern campus
Fantastic learning facilities
We work with over 3,000 employers to help you find a job
Rated "Good" by Ofsted in all areas - as of January 2022
---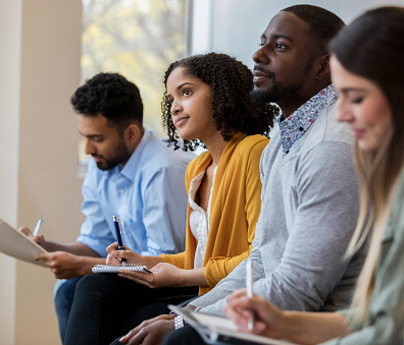 Overview
GCSE English is a vital requirement for almost everyone. Colleges and employers require GCSE English, usually at Grade 4 or above and, if you have not achieved this level of success in GCSE English yet, there is no better time to put it right.
GCSE English can lead to a wide variety of further study options - whether that be an Access to Higher Education Diploma, Foundation Entry degree or a degree from the University Centre at Blackburn College, subject to your existing qualifications.
We have a long history of offering GCSE English Language to adults across Pennine Lancashire and beyond. Tuition and Examinations for the course are FREE if you do not have a grade 4-9 in your GCSE English currently.
Various classes are available for you to attend. These include day-time and evening-only options. You will attend one three-hour class each week for 30 weeks.
What will I study?
The course is divided into four distinct parts, and each week you will work on a range of activities relating to these topics:
Writing about Victorian Literature
Writing about Non-Fiction texts
Writing for particular audiences and purposes
Imaginative Writing
You will also complete a Speaking and Listening tasks during the second half of the year.
In addition, we'll focus on improving your spelling, punctuation and grammar. We will ensure that you are fully prepared to achieve a good grade in the examinations and the skills that you develop with us will also enhance future employment and future study.
Entry Requirements
You must be over 19 years of age and you should have a reasonable level of written and spoken English. All applicants will be required to complete a short assessment to ensure they are enrolling on an appropriate level of study and that they can enjoy and achieve during their time at Blackburn College.
If you have completed Level 2 ESOL, you should progress onto Functional Skills English before embarking on the GCSE programme.
How will I be assessed?
You will sit two examinations in June.  The first exam will require you to answer questions on a piece of Victorian Literature and the second exam will ask you to write about a piece of Non-Fiction text. You are not given these texts in advance, but we study examples of both extensively before you sit the exam.
To ensure successful completion of the course, students are expected to maintain attendance of 90% and above over the thirty-week programme.  If you are unable to commit to weekly attendance you should apply for this course when you are able to do so.
What can I do next?
Providing successful completion of the GCSE English Language course at Blackburn College there are a wide range of Level 3 and Access to Higher Education courses available should you want to continue further study at the College.
Subject to other qualifications that you may have already attained you could progress on to a degree at University Centre at Blackburn College in a wide range of disciplines. We encourage our students to attend careers advice and open evenings to assess what path is most suitable.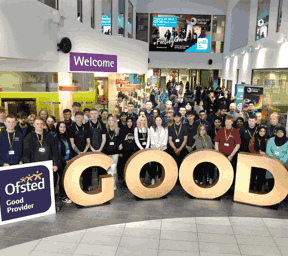 Rated "Good" by Ofsted

January 2022