Entry Requirements
You will need 4 GCSEs at grade 5 or above with at least a grade 4 in GCSE English Language. You will also need a Grade 6 in Maths & Grade 5 in Physics or Grade 5 in Core & Additional Sciences and taking A-Level Maths
Duration
2 academic years
Timetable
Check with tutor
---
Key features and Benefits
New Blackburn Sixth Form
High Achievers Programme
100% A-Level Physics pass rate
Industry Standard Scientific Laboratories
---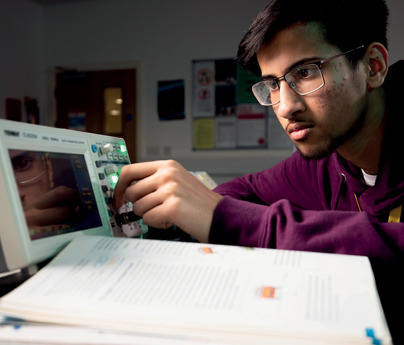 Overview
Physics is one of the most exciting and interesting subjects you can study and it is crucial in understanding the world around us. Discoveries in physics have led to revolutionary inventions, including light bulbs, aeroplanes and the internet, and will certainly contribute to future technological innovations. Physicists study the universe from the smallest subatomic particles to the largest galaxies, combining imagination with systematic reasoning to unlock many of the universe's secrets.
What will I study?
In the first year, you will study:

Development of practical skills in physics
Fundamental data analysis
Physics in action
Understanding processes


In the second year, you will study:

Rise and fall of the clockwork universe
Field and particle physics
Entry Requirements
You will need 4 GCSEs at grade 5 or above with at least a grade 4 in GCSE English Language. You will also need a Grade 6 in Maths & Grade 5 in Physics or Grade 5 in Core & Additional Sciences and taking A-Level Maths.
How will I be assessed?
There are three written exams in year two alongside a series of practical endorsements.
What can I do next?
Further Study at university in a wide range of Physics disciplines from the medical to the astronomical.
Physics is also a firm grounding for further study in Engineering, Electronics, Computing, Mathematics and other core Sciences. Physics is unrivalled at providing analytical skills, which are highly transferable to a wide range of other subjects.
Career Options
Careers
Physicists go onto a wide range of STEM careers including most fields of engineering and physical science. They can also go into medical areas such as radiography and radiotherapy.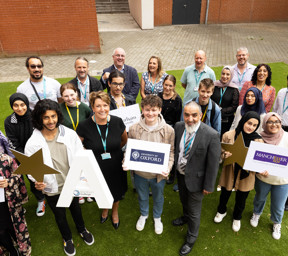 100% A-Level Pass Rate in 20 subjects

Blackburn College August 2022 Results